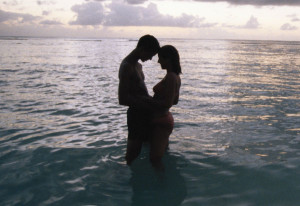 When people think about using "sexual energy" they usually think of some kind of woo woo esoteric tantric sexual practices.  That's not exactly what I'm referring to when I mean sexual energy. All I mean by sexual energy is the driving force of creation inside you.
The trick is to control your sexual urges and direct that energy into productivity.  One half of the equation of doing this is to stop beating off.  This has been talked about on just about every website out there, so I won't go into it here.  Stopping beating off is one thing, but if left unchecked, your sexual energy will build and build and if you don't direct it somewhere it will want to come out.  So make sure that when you stop beating off, you then do something else with that energy.  My suggestion would be to start a business.
The other half of the equation to using your sexual energy for productivity is to find someone to love who will support you behind the scenes.  Just as you wouldn't want to waste your energy by beating off, you also don't want to waste it by sharing it with some random flooz.  Having one night stands and random hooks ups can be fun for about 2 days until you figure out that it's boring as hell.  Better to find someone you love to build something with.
The reason for this is that one of the main reasons that people do anything is because they want to reproduce.  It's in us deep to go out and seek a partner to reproduce with.  As a result we do all sorts of stuff to make our chances of reproduction more likely.  Once we find someone to love, it frees up our intention and energy to focus on something else.  If you're a business minded person like myself this is good because we can focus our precious time on forming a business instead of going out at night trying to spread our seed everywhere.
As a man, it's in our nature to take care of all the finances of the household and to be the "bread winner". When we have someone at home who we love, we're inspired to get productive and provide for the ones we love.  When provided with a reason to go do work, we're more likely to actually do it!
Think and Grow Rich
I first picked up on this years ago when I first read the book Think and Grow Rich by Napoleon Hill. Think and Grow Rich is an extremely bold book about the habits and lives of successful people. When reading it the first time though, the chapter on the "Mystery of Sex Transmutation" stood out the most. I have never seen any other books on success talk about this.  What's crazier is that the book came out in 1937.  The subject is a taboo subject today, imagine if you were reading this in 1937.
Tuns out that a bunch of rich and successful people were using their sexual energy for productivity, most of whom may not have been consciously aware they were doing so.
I love unorthodox stuff like this because so often when you read about how people become productive it's little tricks and habits to get more out of your day.  With using sexual energy, all you have to do is just direct all the energy you were using to go reproduce and turn it into energy for doing something else.
Sexual Energy Applications
There's a lot of applications for your sexual energy. You could go out and sling dick every night and hook up with chicks.  That gets old after a while though.  What is the point of doing the same thing like that week after week?
You could also beat off, but again that gets super boring.  Beating off is pretty much an addiction for most people.  They don't even want to do it really, but somehow it ends up happening.
You could also use that energy to create a bunch of kids.  I suppose there's merit in this, but if you do this over and over again you'll end up having to care for a gang of kids instead of living life.
Finally, you can use your sexual energy to produce in your business endeavors.  All the pent up sexual energy that gets built up after a while will make you a complete savage wanting to get stuff done.  You will have incredible drive when you haven't wasted your sexual energy.
Conclusion
I really love Think to Grow Rich because it exposed me to this esoteric "secret" of the rich and successful that isn't really all that esoteric.  I know this stuff sounds really woo woo, but it's just simple stuff.
If you're having second thoughts about using sexual energy for productivity, try not having an orgasm for about a week and tell me how you feel.
Action Item: Stop beating off and banging random floozies for a week.
Personally, whenever I do that, it's like I can punch through brick walls.  That's how crazy energetic I can get.
From there it's just a matter of using that energy to do something productive like start another business.
-Tate
Check me out on Twitter 
Follow @Tatetime