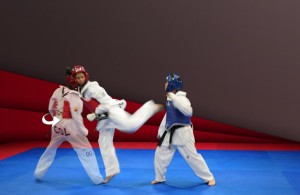 I didn't start learning how to effectively throw a side kick until about 5 months into my training. I'm not sure if this was a lack of being able to teach or if I'm just a slow learner. However, I also saw that a lot of other people were having trouble throwing a side kick. It didn't start to click until I visualized my bottom foot shifting in line with the direction of the kick.
This really opened up throwing side kicks for me and as a result learned that it's a really effective technique for getting someone the hell out of your zone.  It also makes them second guess ever coming into your zone again giving you a huge advantage.
It didn't stop there though, there were a couple other little pointers I picked up over the years that helped me develop my side kick into a home run hitting kick. What I mean by that is that if I connected with it, I was capable of putting someone down just from that kick.
The side kick by itself is a devastating kick. During my black belt test, I saw a stocky dude kick a kid with a solid shuffle side kick, and I'm pretty sure it killed the kid. One way to make the side kick more powerful is to use a turning side kick.
The turning side kick is nuts.  If you get your form correct, and connect with one of these bad boys, it will completely drop your opponent and most likely break his ribs.  The difference between a regular side kick and a turning side kick is just that you turn 180 degrees before throwing the kick giving it more power.
How to deliver the turning side kick
Delivering the turning side kick is pretty simple, but hard.  You have to have good balance, good flexibility, good leg strength, and good coordination. This is an intermediate to expert level technique, but it's well worth it to learn.
Here's how to do it:
Shift your front leg a slight amount so it's easier to turn.
Bring your back leg up to where your front leg is.
Turn 180 degrees.
After you turn, pick up your lead knee.
Rotate your body and throw your lead leg into a side kick.
Hit target with heel of lead leg.
Now, after you have done this a few times slow to get a feel for it, put it all together in one movement. Keep making it faster and faster.
How to improve your form
The turning side kick is a technique I constantly see people doing wrong. It's hard to describe exactly how to do this kick to people without showing them so sometimes I think people slip through without being corrected.
One thing to do to improve form is to not kick high when starting out. I would suggest this little trick for any new kick you are learning, but it's especially true for the turning side kick.  Trying to kick high before you can will throw off your form and make you lean back too far taking away a lot of your power. So when you are just starting out, pick your knee up and kick low on purpose to get the form down.
Another thing to improve form is to key on what I call having your legs go in different directions. What I mean by this is that when you kick, you are rotating your back leg one way, and your kicking leg the other way. Your back leg is your base and it has to be rotated so the heel of your foot is pointing towards your target.  This all happens in a "snap" movement when you throw your kick.
There's one variable among people that will make a difference in your turning side kick's effectiveness. That is your flexibility. You don't need to be throwing kicks very high with a turning side kick, but with more flexibility, your kicks become easier to throw.  When it becomes easier to throw, you can focus more on getting your form down and you will have more power in your kicks. The way to get more flexibility is to stretch more. I rarely stretch other than to keep a maintenance level of flexibility, but there was a time where I was crazy flexible.
One tool that helped me get flexible was a Pro Force Stretchmaster 2. One of the problems with stretching is that to really get flexible you have to dedicate a good chunk of time into actually stretching. I knew this was a problem ahead of time and bought this stretcher to hold a stretch while I do other activities.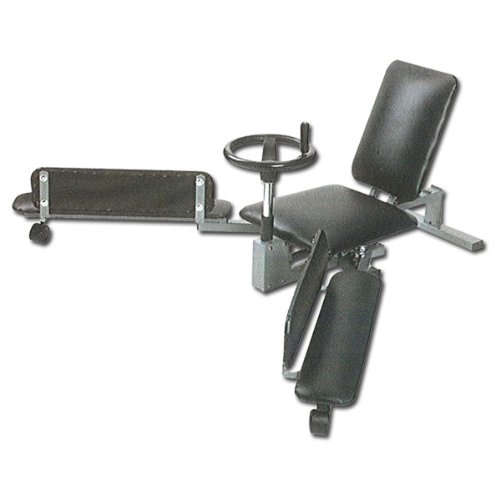 For example, I'll pull this thing out and sit in my living room watching a movie.  At the same time, I'm getting a seriously good stretch that I can hold and be able to relax into for as long as I want. The Stretchmaster allows me to get a really good stretch in and make it seem like I'm not even stretching. This thing really works well and I would recommend using one. This item really helped my kicks go to the next level.
Sure, you could get flexible without one of these things, but how much stretching do you actually do? With the Stretchmaster, I was able to get a lot more stretching in and became much more flexible.
What not to do when throwing a turning side kick
One thing you should avoid doing is spinning off-line.  What I mean by this is that when doing a turning side kick, a lot of people spin their body.  What this does is it results in more of a circular motion with your kick.  If your kick hits at all, it will have much less power behind it.  Instead, think of your body moving in a straight line towards your target.  Rotate your body, but always key on moving straight forward and not spin to the side at all.
Another thing you shouldn't do is lean back too far.  This is related to people attempting to kick too high before they can.  They try to throw a kick high and compensate by leaning back too far.  This takes power away from your kick. Another reason people lean back though is that they are using the turning side kick as a reactionary kick.  What I mean by this is that they throw the technique when their opponent is coming in at them.  This isn't bad per se, but often times their timing is off and their opponent is too close to them by the time they throw the kick.  If the opponent is too close, leaning back happens because they have to compensate again, and they lose power.
Always imagine going forward with your turning side kick and pushing your kick through the target. I see a lot of people throwing the kick and kind of snapping the kick at the target. Imagine your heel hitting the target and exploding through the other side of it. Imagining this will also help you with leaning back. Throwing the kick through the target will naturally limit the amount you will lean back.
How to improve your potential to hit your target
One great way to improve your chances of hitting someone with a turning side kick is by throwing a punch with your lead hand when you go to make the turn. So as you take a small step with your front leg, throw a punch at the same time with your lead hand.
What this will do is bring your opponent's hands up to block the punch.  From there, follow through with the turning side kick.  If done correctly, they won't have enough time to react to the turning side kick because their hands are still held high. This leaves their ribs and midsection completely exposed.
Examples of the turning side kick
UFC commentator Joe Rogan has the most devastating turning side kick I have ever seen.  Look at how the bag gets destroyed in this video and imagine it being a human being.
In the video above, Joe mentions that UFC fighter Cung Le uses this kick.  Cung Le comes from a "San Shou" background which is like a modified form of kickboxing that incorporates takedowns.  He's one of the only guys in MMA that throws "karate" style kicks and makes it work.
Conclusion
The turning side kick is a really great technique that will drop your opponent if you do it correctly.  I don't see a lot of MMA practitioners using it correctly if at all.  I suspect this is because there aren't really any "karate" style practitioners at a high level. It looks like the guys that do throw it just do it to do something random and it always looks bad and never connects.
On the street, this move will drop your opponent if you can do it right. Most people aren't looking to defend against this kick and will not understand distance enough to guard against it. You really have to have your balance, and kicking under pressure down for it to be effective on the street. So practice practice practice.
-Tate
Check me out on Twitter
Follow @Tatetime