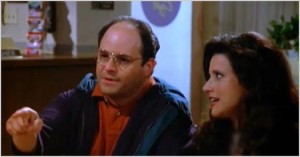 When I was growing up, my parents always watched the show Seinfeld. As a result, I wound up watching it all the time as well.  This worked out great because I thought it was a really funny show. One of the episodes that really stuck out in my mind was the one where George Costanza starts doing the opposite of what he normally does.
Even when I was a kid I had this feeling like all of George's girlfriends were out of his league.  George was a fat out of shape bald unemployed dude. Yet, he would always land good-looking women in the show somehow.  Maybe this was a result of the character being based on creator Larry David or maybe it was an inside joke, but I never really got it.
Opposite Episode
It all started to come together for me when I saw this episode.  Before this aired I always thought that something was a bit off about the Seinfeld characters and it wasn't until later that I realized they are all sociopaths.
This has a certain appeal to people because all the characters give off this I don't give a fuck attitude that is attractive as hell. With this in mind it starts to make a little more sense that these characters would be batting above their average.
In the opposite episode, George does a little soul-searching and comes to the conclusion that every decision he made in life was wrong. He decides that if everything he did was wrong, doing the complete opposite would be right.
He then notices a girl looking at him in the diner and does the opposite of what he normally does.  He goes right up to her, and announces exactly what he is.  Interestingly enough, it works.
This is IDGAF attitude in action.  George knows that he's a complete loser, but by announcing the fact and owning the shit out of it, it gives off a perception that he doesn't care.  This attitude sends signals to the woman that this guy must have options if he doesn't care about rejection.  If that's the case then he must have something good about him to permit this confidence.
Later in the show, George and the girl go to the movies and a couple of dudes are messing with them. Again, George does the opposite of what he'd normally do by getting up and yelling at them.
George displays male dominance here like an absolute boss.  George flips out on these guys in what appears to be a total loss of control, but the display of dominance trumps any negative of looking like a complete lunatic.
Sometimes you gotta get up and lose your shit in life.  When dickheads are kicking your chair at the movies, you gotta pull a George.
Use the Opposite
How many times have you been in a situation like George out in your daily travels?  You're out somewhere and see a cutie giving you the cue to come over and your instinct is to come up with every imaginable reason not to go talk to her.
Maybe you've recently been out on a date that didn't go well and you barely got a peck on the cheek at the end?
How about being at a bar at night and there's some dime piece across the bar sitting with her friends just asking to be picked up by you.
Try the opposite for once
If you've recently been blowing it with women, give the opposite a chance some night.  If what you are doing isn't working, do the complete opposite.
If you need some kinda push to do the opposite, just treat it like a game.
That's why they call it game.
Get out there and kill it this weekend.  Grip, rip.
-Tate
Check me out on Twitter