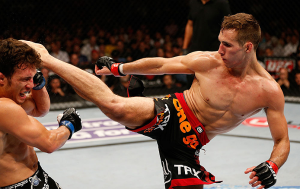 I have an extensive history in doing karate.  A whole lot of it is a bunch of bunk designed to convince you to keep paying money to learn something.  However, there's also a bunch of stuff about karate that is legit.
One of the techniques that I picked up during my years of doing karate is called the Question Mark Kick. I personally have used this technique to kick people in the head numerous times. It's so effective that I was able to tell people I would kick them in the head and then immediately do it without them being able to stop it.
The Technique
The Question Mark Kick is a fantastic kick because it throws everybody off.  What you do is you chamber your kick as a front kick, then flip it over into a roundhouse kick.  So essentially your knee comes straight up, then off to the side to the guy's head.  Here's a demonstration:
The Set Up
The timing for this kick couldn't have come at a better time for people doing MMA.  Since Anderson Silva knocked a guy out with a front kick to the jaw, the front kick is now seen as a legit threat.  As a result, people are wary of blocking a front kick.
This is perfect because in order to block a front kick you have to drop your hands slightly.  So the first step in executing a good question mark kick is setting it up with a couple front kicks first.  This plants the idea in your competitor's head that you will be throwing front kicks and he should be wary.
Once you see him over reacting to some of your front kicks or feints, throw a question mark kick to his jaw for the knockout blow.  The trick here is that you need to be really fast in your transition from front kick chamber to kick to the jaw.  Practice enough so it becomes one fluid movement.
Why this technique is so effective
Besides being scared of the front kick to the jaw, men are programmed to drop their hands to protect their groin.  Don't believe me?  Throw a fake attack at a random dude's groin on the street.  Unless they have absolutely zero reflexes, they'll respond in some way by covering up their groin.  They usually do this by moving their hands in front of their area.
When you are squaring off against another dude and you go to throw a kick at their groin, their reflexes take over and force their hands down.  This is perfect because they won't be able to bring their hands back up in time to block your kick to the face.
The fact that this technique isn't more utilized in the UFC is mind boggling.  I suppose this has more to do with fighter's backgrounds than the effectiveness of the technique.  The reason for this being that most striking in MMA is some form of kickboxing/muay thai, and they don't usually do high roundhouse kicks.  As a result the question mark kick is rarely seen in a fight.
For reference, Glaube Feitosa became famous for this kick.  So much so that they started calling it the "Brazilian Kick" after him.  Here's a video of him knocking someone out with it.
How to get better
If you're struggling with the question mark kick I have a few pointers for you.  Think of the kick as a whipping motion in which you whip your leg up to the side after pointing it straight up. Meaning it whips up in a semi-circle motion once the knee is up.
I have found that this kick works best from the rear leg.  This allows you to build enough momentum to whip it up to the side after the initial front kick chamber.  It's possible to do from the front leg, but it's extremely difficult and not worth doing.
Another thing to focus on is to make your transition from front chamber to roundhouse extremely fast. The faster it is, the less time your opponent will have to readjust.
Finally, make sure that you can do a regular roundhouse kick to the head.  If you can't do that, work on that before trying the question mark kick.  You will need to get more flexibility in your hips and more leg strength to be able to pick your leg up that far.  This comes with practice and stretching.
Conclusion
This is a very effective technique that karate people know about, but unfortunately hasn't been utilized that much in MMA.  Hopefully that changes because this kick is devastating and very exciting to see.
This kick is extremely effective for the average joe on the street as well.  First off, no one expects you to ever throw kicks in general.  Second, throwing a kick to the head is rarely seen.  Couple the unexpectedness of it with the instant knockout power of this kick and you can finish a street fight quick.
In the future I'll be covering some other techniques from karate that are really effective moves. Even though a lot of karate is bunk, there's no reason to throw the baby out with the bath water.
-Tate
Check me out on Twitter
Follow @Tatetime