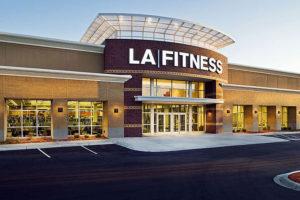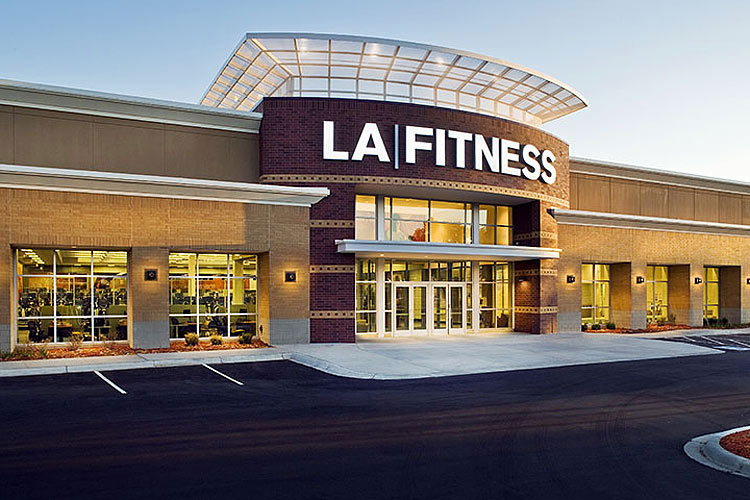 When it comes to fitness you have so many options that you could become paralyzed by choice. Once you get the discipline up to start working out regularly, it then becomes a choice of what to do, how long to work out, and what supplements to take.
Another decision that you will have to make is where to work out. Across the united states there's a number of options that people usually go for. Gyms all have pros and cons, and it's up to you to choose what's best for you.
That being said, I think that LA Fitness offers the best value for your money and is the best gym to go to.
Even though LA Fitness has a lot of positives, there's a fair share of negatives that you'll have to endure if you decide to sign up.
Ultimately, where you go to work out is a very personal choice and you should consider a number of factors before deciding.
Pros
Every kind of exercise equipment you would need.
Weights that go up past 120 pound dumbbells.
Power racks and squat racks.
A wide variety of free classes.
Basketball court, swimming pool, sauna, and a large locker room.
Respectable hours.
Low cost.
Cons
Horrible music played at a level that is one notch too loud.
Very popular, very crowded.
Could use a few more power racks.
Some locations have hex plates.
Workers who clean the gym are brain dead.
Sauna thermostat is set too low.
Equipment
Every LA Fitness I've been to has very similar equipment. One thing that is annoying about using a bunch of different gyms is that each one has different stuff and you have to adjust your workout slightly to account for this. With LA Fitness you can go to any of their gyms and have the same experience.
They also have a lot of equipment, so most likely they will have whatever you are looking for. From weird calf machines to strange looking cable machines, they have it all.
Of course, many of us who go to the gym to lift weights prefer to use free weights. Fortunately they have you covered here as well. They don't skimp on dumbbells. The weights go up to over 120 lbs and they also have a variety of curl bars, universal plates, and olympic bars.
Another great feature of LA Fitness is that they have power racks and squat racks. Other gyms that I've been to only feature at best one squat rack and maybe a smith machine. This can cause problems if the gym is over crowded. LA Fitness will have at least two squat racks and a power rack.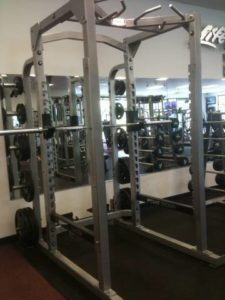 Classes
I'm not even sure what classes they offer at LA Fitness beyond yoga, but I'm mentioning this because their yoga class is pretty good. As a guy, I'm not very interested in any of the other classes because they all look like spinning or hip hop fitness. However, yoga is a very good practice to undertake for men.
I've talked at length about the benefits of yoga in the past. Just know that with your membership, you could also be taking yoga classes. If you took it somewhere else would be much more expensive that what it goes for at LA Fitness (free).
If for whatever reason you wanted to take a look at all the other classes, they are free to attend as well, just grab a schedule and show up.
Other amenities
Another great feature of LA Fitness is that each one has at the minimum a basketball court, swimming pool, sauna and a large locker room area. The use of these facilities is all included in your membership, so it's an incredible value if you use them.
Having a large locker room is nice because I've been to many gyms where the locker room is incredibly small and dirty. Having a clean professional looking locker room with a lot of space for people to get changed is really great.
The real game changer though is having a sauna available to use. I'm a huge proponent of using a sauna, and having it attached to your gym is extremely convenient. Using a sauna is extremely relaxing and is the perfect post workout therapy. I highly advise implementing sauna use into your routine.
Another amenity that LA Fitness has is raquetball courts. These aren't featured in all LA Fitness gyms though, so you'll have to search around for them.
Good Hours
The hours at LA Fitness are pretty good. The hours are 5 am – 11 pm Monday through Thursday and 5 am – 10 pm on Friday. Saturday and Sunday are 8 am – 8 pm.
I find these hours to be adaquete. It's the rare occasion that I need to go to the gym at 1 am. Would I like the opourtunity to?  Sure, but ever since developing a morning lifting routine, I've never found the need.
Cost
LA Fitness costs 30 dollars a month. That's pretty cheap considering all the positives that come with it like free classes and free sauna. It's not the most inexpensive gym around, but it's not that much more.
Every time I talk about how I think LA Fitness is the best gym for the money, I'll have someone tell me that Planet Fitness only costs 10 dollars a month. Usually these people rarely if ever go to the gym.
Would I like to pay 20 dollars less per month for a gym membership? Sure. However, I've been to Planet Fitness and it just doesn't compare. They don't have the same free weights and equipment which is the main reason why I'm going to the gym in the first place.
Another thing is that I'm really not concerned with an extra 20 dollars a month. 30 dollars seems to be a sweet spot that I'm good with. On the other end of the spectrum we have Crossfit gyms that are basically really expensive weight lifting classes.
Crossfit will charge you somewhere like 100 dollars a month or more to be in their "elite" group. No thanks. I'll just lift by myself.
Music
One thing that annoys the hell out of me every time I go to the gym is the stupid music they play there over the speaker system. It's horrible. LA Fitness seems to have their own radio station that plays shitty music all day.
It's not too big of a deal because I bring an arm band for my phone and listen to my own music. The problem is that sometimes they play the music a notch too loud.
I understand that people like music in the background for lifting, but I don't need it cutting into the music I'm listening to.
Crowded Gyms
LA Fitness is a pretty popular gym and with this popularity comes a crowded gym. The good thing about LA Fitness is that the gyms are usually really big, so this isn't a big issue.
Another thing is that most people coming to the gym are going to the cardio area. There will always be less people lifting which is nice. However, there will be some days where there are people using the machines you want to use.
These days are few and far between, but it is an issue that you'll have to deal with.
Limited Power Racks
LA Fitness is a gym that is trying to market to everyone. They do a pretty good job of doing so, but this means they don't have a gym full of free weights and power racks. They have some, but on the days everyone in the area seems to show up, you may have to wait to use some of this stuff.
What they can do to make this a non issue is just put one more power rack into each gym. Usually there is one power rack. Putting one more in per gym would be huge.
Hex Plates
I've been to a few LA Fitness locations and they are pretty much the same. One difference that really annoyed me was that most locations have those stupid hex plates instead of the superior circle plates.
Hex plates make it a pain in the ass to deadlift with. You put the weight down on the floor and it has to shift to the level part of the plate.
This is a small complaint, but it's something that really grinds my gears because it could be easily avoided by simply buying plates that are circular. LA Fitness seems to know this because at another location they will have the circular plates.
LA Fitness Employees
The people who clean LA Fitness are not the brightest I have found. When I was going to the Ft. Washington location, the locker rooms would always have trash cans full of paper towels to the point that they were overflowing. This would last throughout my entire trip. In a typical 2 hour period they would consistently not empty trashcans full of paper towels.
The people who they hire to sweep and vacuum are very annoying people who don't understand gym etiquette. I'll be doing overhead presses and some guy will saunter up next to me and start vacumming. It's very distracting to have someone do that while you're trying to lift.
The most extreme example was one time I was benching and an employee went to clean a vent on the ceiling right behind me. He brought out this lift that raised him up to the ceiling and proceeds to dust this vent. I get off the bench and watch as all this dust comes flying down.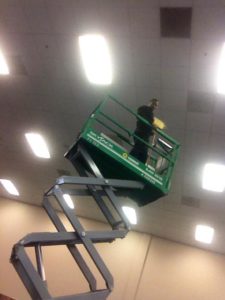 These people have no idea what they are doing.
Sauna Thermostat Set Too Low
I like a Sauna to be really hot. I know there may be liability issues with this, so I'm not going to complain too much, but when you say the sauna is set to 180 degrees, I expect it to be at 180.
The problem is that they keep the thermostat right above the heater in the sauna, so the thermostat thinks that it's hot, when the room isn't really that hot.
There's an easy solution to this problem. All you have to do is get a damp paper towel and place it over the thermostat for like 10 minutes. This will artificially make the heater think it's colder in the room and get it pumping out some serious heat.
Another problem is that the sauna is on a timer to go off during the day. This is meant to save money for the gym so that they don't constantly have the heater on. The way around this is to set the timer on the sauna to an hour before you start working out. By the time you're done, you can set the timer again so that it never goes off during your stay.
Unfortunately this isn't really an option if you're using the sauna in the morning to get a little warmup heat for your muscles as the workers don't turn the sauna on at 5 am.
Bottom Line
With all the positives that LA Fitness offers, I think it's absolutely the best gym to get a membership. For 30 bucks a month it offers an incredible value.
The negatives of the gym are all outweighed by strong positives and really are minor annoyances for me.
If you're looking to sign up for a gym to get your health in order, I think LA Fitness is your best bet. Make sure to visit one in your local area to make sure it's a good fit for you.
-Tate