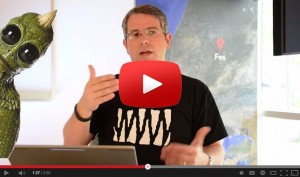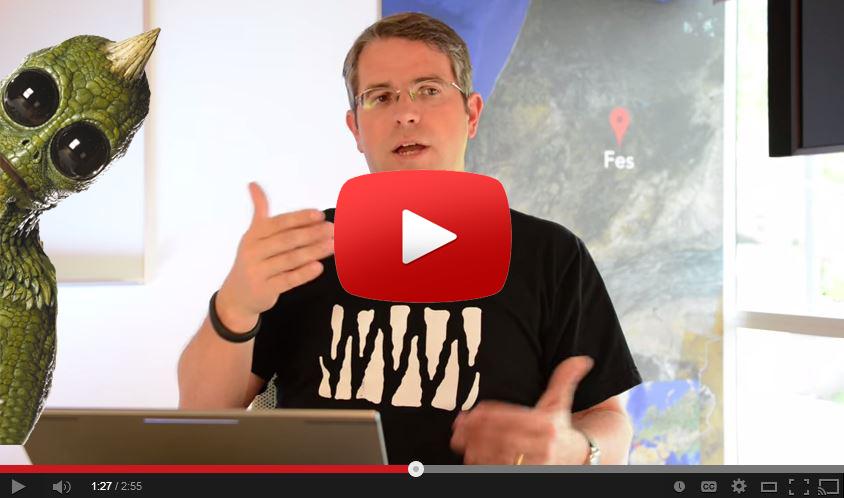 SEO is a pretty interesting world.  I am not an expert in SEO at all, but I certainly know more than the average person.  SEO is constantly changing.  Things that worked 2 years ago not only won't work now, but will actually harm you.  What is the small time blogger with no audience to do in order to gain traffic when everyone is preaching different techniques?
There seems to be two camps when it comes to blogging.  One one side you have people saying to just follow what Google Spam Wizard Matt Cutts says and you'll be fine.  The other camp says the hell with that, and is looking for faster results.  They will go about this by using expired domains, link building campaigns, and other sorcery.
I didn't start out to do any kind of experiments in SEO as I don't have the time or inclination, but after posting my review of 30 Days of Discipline a few weeks ago, some interesting things happened that I had to take note of.
Like I said, I'm not an expert in SEO, but I know a lot about it just by reading about all the Google Penguins and Hummingbirds.  It's all a mishmash of facts in my head now, I really only have a vague idea of what works and what doesn't anymore.  I used to ask certified SEO expert Ryan O'Connor all about it back in the day, but who knows how much of that has changed.  That being said, I think I've found a couple little things that work really well.
To rank for my term, I did no SEO stuff, I merely wrote an article on a subject and published it.
Decide what your goal is
SEO is a vast world in which different tactics apply for different goals.  For example, writing a review article on some kind of information product would require slightly different tactics than ranking items in your ecommerce store.
For this experiment I am a blogger trying to rank my article reviewing an ebook.  This is generally considered to be an easier task than trying to get to the top of the search results for barbells or ranking for pay day loans.
Just understand that there are different difficulty levels for ranking for different terms, and temper your expectations.
Look at competition
Before you try and rank for something, look at the competition.  When I say this, I don't necessarily mean look at all the other sites' backlink profile or their Domain Authority.  What I mean is how good is the quality of their article.  If you go and look up 30 Days of Discipline Review, there are a bunch of articles that aren't that long in length.  They give a general description of what the book is and throw up a link to purchase it.
I thought to myself I wonder if I can beat these articles simply by making a very comprehensive article describing my experience with the program.  All the other articles seem to lack the specifics of what happened when the author did the program.
Article length
A lot of the articles on the first page weren't that long.  They came out at around 1000 words each.  They summed up what the program was all about very succinctly.
Somewhere along the line Google came out and said they were looking for articles that were of the highest quality.  One possible way to determine a high quality article is article length.  The longer the article the more likely it will be of higher quality.  This isn't always true of course, but an article without any length is not going to be looked at as favorably as a longer article.  Of course, if you are going to make a longer article it's a good idea to make sure it warrants a longer length.  Don't just put in filler to attain rankings as that could backfire.

My article on 30 Days of Discipline was around 2700 words.  In the article, it linked to other articles I did in which I documented each and every thing that happened during the week.  These articles also were very long articles.
Different Media
A lot of the articles that review 30 Days of Discipline are blog posts.  But if you look at the top search results for 30 Days of Discipline Review you'll notice that one of the top spots is a youtube video.  What's interesting is that the gentleman who put that video up also has his article on the subject ranking as well near the top.

I have no idea if this is a ranking factor or not, but it seems that articles that include multiple forms of media rank better.  I'm not 100% sure about this though as it could be any number of other factors influencing the results.
My article for instance doesn't have a video at all, and it shot up to the 2nd spot for a while.  I do however link to the weekly updates for my experience and they contain multiple videos I made on the subject, so maybe that influenced it somehow.
Interesting side note, the gentleman who did the 30 Days of Discipline youtube video goes by the name SJ.  He emailed me recently about a different matter but I took the opportunity to pick his brain on the subject.  He said that the reason his youtube vid is ranked so high is because of all the shares he got for it.  It may be much easier to rank a youtube video in the results than a blog page for a number of different reasons.  Just something to think about.
Speaking of shares…
I'd have to go back and measure different shares that the other pages got that were ranking for 30 Days of Discipline Review, but one thing I can tell you is that the first day I posted the article, I blasted it with a lot of traffic.  I did this a few ways.
First, I tweeted Victor Pride about my review article and he retweeted it.  That got a lot of traffic and is a pretty good share from an authoritative source-the author himself.  I then threw the article up on reddit in a few places.  This was a bit tricky because reddit users are pretty savy and don't like spam.  But it got upvoted to the top of a couple subreddits which really got a lot of traffic.  Finally, I posted it to a really active facebook group that I'm a part of that gets a lot of traffic as well.

Another way I made sure to get traffic to that article was I put a picture linking to the article in my sidebar.  Every page or post on my site that you go to you will see a link with a big picture to that post.  I also have a popular article plugin that lists the most popular posts I have on my site.  Not surprisingly, my post on 30 Days of Discipline is the most popular.  Just another way to get more eyes on the content.
What effect did this have?  I'm not really sure.  It may have had the effect of telling Google that my page was an authoritative page on the subject as a lot of people were currently going to it.
Freshness
My article was one of the latest articles to be published on the subject.  Again, I'm not sure how much of an effect this had, but I know there is such a thing as freshness that influences search results.
Google likes to place articles at the top that are the most recent.  This is because they are the latest word on any subject.  I first learned about this from a guy named ViperChill.  He wrote an article about how savvy webmasters are manipulating how Google interprets when their blog post was published.  They do this to make it look like their article was just recently published and boom, they are at the top of the rankings again.
What's interesting is that the guy currently at the top of the results for 30 Days of Discipline Review may be doing this tactic. The reason I say this is that when I was starting out with this whole process in the beginning of September, I looked up a bunch of articles to see what they were doing with their reviews, see:  look at competition.

I noticed this gentleman's post because it was already ranking high.  Then a few days ago I checked the rankings and noticed he was at the absolute top.  I looked at the publish date and it said Oct 16, 2014.  He also seemed to have changed the title tag of his post to include the word "scam" which is another popular term people use when looking up reviews of ebooks.  I know this article was written years ago because it's essentially the same article he had before.
In fact, he may not have even manipulated the code, but just erased old posts and reposted the article in a slightly different order at a later date.  It's essentially playing google the same way.
I should point out that I'm not hating at all, game recognizes game, just mentioning it because it's awesome.
Google Dance
When you dance in the world of SEO, expect ups and downs.  What happens a lot of the time is that your post will go up and down the Google rankings.  The best you can hope for is a level of consistency.
When I published my article, I remember it started out on the 3rd page of results.  It then shot up to the number 2 spot overnight.  Every day since going to number 2, it would slowly but surely move down the results until I was at the bottom of the 2nd page.  Then, seemingly out of nowhere, my article shot back up to the number 2 spot after spending a week at the bottom of page 2.
I have no idea why it shot back up that second time, and while I was writing the bulk of this article, it was still at the number 2 spot in the rankings.  It has since dropped down to the 3rd spot on the 2nd page.  This isn't good if you want to make any money on whatever you are writing about.  Ideally you need to be on the first page in the top 3 spots.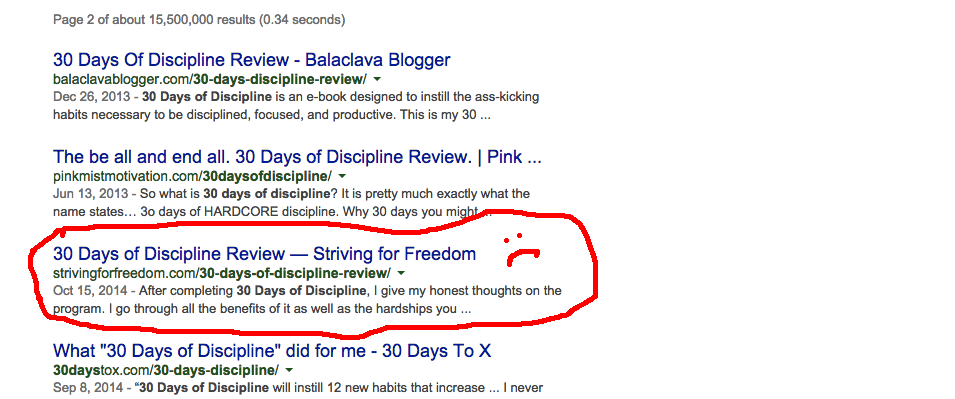 Impact on sales
I have no idea how good my article is at actually selling an ebook.  If I had to guess I would imagine it was complete shit copy, but that wasn't really the point.  My intention was to document the whole process and sum it up in an article. With that in mind I think I succeeded.
During the initial surge at the number 2 spot, I sold a bunch of ebooks.  Then when I dropped off of page 1, I sold nothing.  When I went back up to the number 2 spot a second time, I again sold some more ebooks.
The whole time that this was happening I was getting massive traffic from reddit and facebook going to that same page, and very little sales if any were made from those sources.  Traffic would come in from there, kick the tires, and then leave.  The real money is from people googling "30 Days of Discipline Review".
People who are searching for that term are looking for other people's experience with the product.  They may have read Victor's sales page and went to Google for a second opinion.  They are ready to buy.  This may be totally obvious, but Google traffic from buying terms going to your page is the highest converting traffic.
In order to get any real traffic from Google, you need to be at the top of the 1st page.
Possible further actions
If I don't want to constantly be publishing the same article over and over, there's a couple things I could consider doing from here on out.
The most obvious move would be to do link building campaigns to make my site have a higher domain authority.  This could be through guest posting, being a contributor, or dare I say it, buying links!  GASP!  I won't do this because I don't care that much, but it would certainly push the rankings of my 30 Days of Discipline Review post up.
Another move would be to find someone who has their own PBN who you can trust.  A PBN is essentially a network of sites owned by one person that are high in Page Rank, Domain Authority, etc.  You could then easily get links that way and have it point right back to your affiliate post with the specific anchor text that you want.  Just make sure that you really trust this guy's network because Google recently came down on PBNs.  I'm not sure how much of that was because of an algorithm update or because of manual actions taken by their spam team.
Again, I highly doubt I'll be doing any of this stuff as I don't really care, but if you are interested in your own experiments, give it a shot.  If you want to rank a page without doing any of this stuff, just do what I did and put the title tag as "information product review" where information product is whatever you are reviewing.  In my case this was 30 Days of Discipline.
-Tate
If you are interested in hearing more from me, check me out on Twitter.
Follow @Tatetime

Or check me out on Facebook if that's your thing.
Striving For Freedom


Promote Your Page Too