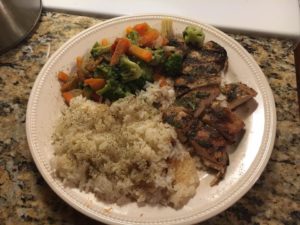 I grew up in a very good traditional family in which my mother made meals every night. She'd also make me lunch pretty much every day. While it could be argued one way or the other on how healthy these meals were or whether they met my caloric needs, the fact remains that I was fed.
One of the things about leaving your home for the first time is that it hits you that you're now responsible for feeding yourself. This is where the "freshman 15" comes from. Kids automatically get lazy because they think eating healthy takes up a huge amount of time, so they eat junk that is fast.
What if it doesn't have to be that way though?
I've been out of my home for years and I've come up with a couple ways to eat healthy meals without it being too much of a hassle.
Criteria
For me, there's three criteria that meals must follow.
First, meals have to be of a significant portion size. How many times have you gone out to a restaurant and ordered some meal that was 10 dollars plus, and they came back with a fancy looking plate with nothing on it?
In America there's this notion that we have unhealthy portion sizes. That doesn't take into account the fact that most people aren't out there lifting weights and exercising on a consistent schedule. My body is being broken down by the lifting that I do, so I need the extra calories to build it back into muscle.
Second, meals have to be quick to make. I don't have hours each day to be making huge meals. If I have to sacrifice taste or presentation then so be it. I don't care about presentation at all and will eat 90% of my meals out of a tupperware container. My meals taste great to me, but I constantly hear people complain about how they think what I make wouldn't taste great. Again, who cares? That's what spices are for.
Third, meals have to be inexpensive. We're trying to get more freedom in our lives. Needlessly spending money on food every day is a good way to live paycheck to paycheck and never build anything with your money.
Starting out
When I initially left my house I had two plans for eating. I wanted to get bigger, and I wanted to stay as healthy and relatively lean as I was. I had this idea that I was going to eat a lot more, but once I started trying to make those meals I quickly learned that I had to put in significant time into making them.
With a full time job at the time I didn't really have extra hours to spare unless I wanted to be making food and working all day. So I started eating out a lot. I would go to Whole Foods and get a huge meal from their hot bar. I'd also go to a local coffee shop and buy a surprisingly great wrap they had
While this was actually pretty healthy, it was draining the hell out of my bank account.
I made it a priority to tackle this issue. I took a few hours and went to the supermarket to buy what I needed for the week. I also invested in some cooking tools to help make the process easier.
This trip formed the basis of my meals that I eat every day, every week.
Trader Joe's
One of the best supermarkets out there is a place called Trader Joe's. The reason I say this is because it has pre packaged meals that are really good, easy to make, healthy, and don't cost a lot compared to other supermarkets.
The convenience factor initially brought me in. The ease with which you can just pick up stuff from there and get started is incredible. It's perfectly suited to a bachelor out on his own for the first time looking to stay healthy.
I do most of my shopping there, but I also will shop in other supermarkets as well to get stuff to hold me over. To be honest, most of the stuff I like from Trader Joe's you could find in other supermarkets but surprisingly I've found them to be more expensive in most cases. Your milage may vary.
Cooking tools
There's a few tools that will save you immense amounts of time in the kitchen. I like this because it allows me to cook food fast, and allows me to also set it and forget it.
These tools are:
These 5 tools allow me to cook all of my meals following all of the criteria I have outlined. They are indispensible when it comes to making your own meals and I highly recommend getting all of them.
You can go without them, but you will save so much time using them that they are worth investing in.
Breakfast
Back when I was younger, I would eat cereal every day. I didn't realize til later that this was very unhealthy. This was the only time during the day that I was getting meals that weren't home cooked. It's astounding to me the amount of activities I did with such a small amount of food.
When I moved out on my own, I started experimenting with breakfast and I discovered the best breakfast:  Eggs.
I eat eggs every day for breakfast.
The best thing about eggs is that it covers a lot of needs. The egg yolks have a good amount of vitamins and cholesterol which serves to build testosterone. The protein builds up the broken down muscle from my morning workouts.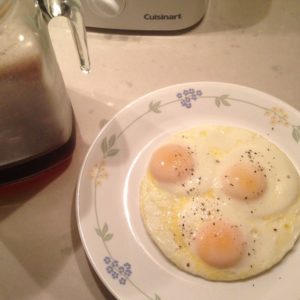 Eggs are the perfect breakfast. Don't get scared about cholesterol. It's a bunch of bunk.
Real easy to make.
Take out your frying pan and butter.
Turn your stove top to medium heat and get the pan warm.
Slice off some butter and rub it all over the pan so the eggs don't stick.
Crack some eggs and throw them in. I usually go with 4 extra large. I crack them so the yolk doesn't get messed up. That way when the eggs are done, the yolk is intact and I can just eat the whole thing with one mouth full.
Put the heat a little more than low and let the eggs cook slow. Here's the trick I use: I get a lid from a pot and put it over the pan to trap the heat in and slowly cook the top of the eggs at the same time. This will save you time and effort and make fantastic eggs.
One of the best things about eggs is that they will not weigh you down and make you tired as shit like most breakfast meals do. Eggs will give you the calories without the sluggishness. If you've been eating bagels or donuts for breakfast, the change will be drastic.
Post Workout
On days that I'm working out I come back to the crib and make a protein shake. Making my shakes are as easy as can be with a blender.
There's a lot of talk about blenders these days and everyone thinks you need some super powerful 200 dollar blender. I don't subscribe to this. Just get a regular blender that they used to have back in the day. As long as it's constructed well, it will fill you needs.
My post workout shake is as follows:
1/2 cup of oats.
Scoop of organic peanut butter.
Two scoops of whey protein.
1 banana.
Blueberries.
It takes a minute to throw all this together and blend it up. Once it's blended, put it in a big mug and drink away.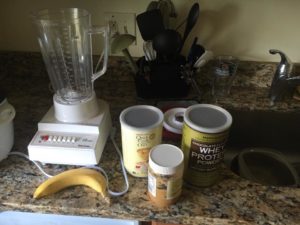 Here's a quick tip:  Once it's all in the mug, make sure and wash your blender right away in order to keep cleaning as easy as possible. If you let it sit there, the shake gets stuck to the sides and it becomes way more difficult to get that stuff off. Same goes for the cup you are drinking it out of.
Lunch
90% of the time I'll have the same thing for lunch as I do dinner, but most of the time I have the same thing every day for lunch.
My lunch consists of 3 things:
That's it. You may be wondering if I get tired of this meal? Never. I also never get tired of feeling light, not having brain fog, and being shredded either.
This meal is actually rather big, really easy to make, and is pretty inexpensive. It's also pretty healthy and keeps me feeling great every day.
The key to making this meal is getting a rice cooker.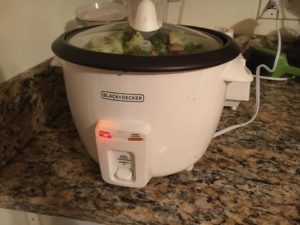 Rice cookers were a complete game changer for me. It took my already short meal prep time down even further. It takes me about a minute to set everything up and then I hit a button and forget about it. About a half hour later it's done.
If you get only one tool from my list of tools, make it a rice cooker.
Here's how I make my lunch:
Dump a cup of rice in the cooker.
Wash the rice with water.
Drain the dirty water from the bowl.
Put some oil on the rice for extra calories/avoiding the rice sticking to the bowl. Do this before adding water to your bowl in order to have the oil absorb into the rice more.
Add a cup and a half of water to the rice.
Get out a bag of frozen vegetables and put them in the steaming basket.
Put on the lid and hit the cook button.
When it's finished, get out chicken and put it on your plate.
Dump a ton of hot sauce, himalayan salt, and pepper on your meal to season.
When putting the oil on your rice, I like to use grapeseed oil or coconut oil. Both are available at trader joe's which is convenient. In fact, trader joe's has this spray on coconut oil that works really well for this situation and I recommend getting that.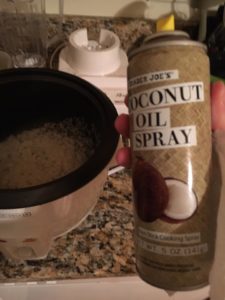 Another point here is that you can save a lot of money on your chicken. I like to use pre cooked grilled chicken breasts that trader joe's offers. They are very convenient and save a ton of time. The drawback of them is they cost slightly more than buying raw breasts. You could just as easily go to costco and buy chicken breasts in bulk and save money.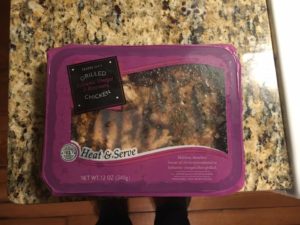 Like I said, 90% of the time I'll eat this meal for dinner as well. The beauty of a rice cooker is that you can cook enough rice and vegetables at once that will provide enough for two meals.
When I'm making my eggs in the morning and waiting for them to cook, I can prepare my lunch and dinner at the same time. It's efficient. This is what allows me to have a lot of free time while at the same time cooking all my own meals.
Dinner
If I'm not having my chicken/rice/vegetables meal for dinner, I'll go to my other go to staples which are steak and potatoes, or stew.
I like steak.
There's a lot of anti-steak propaganda out there and I call bullshit on it. After eating a rare steak, I feel incredible. I actually get high from eating a great steak. Most likely something about consuming a bloody dead animal harkens back to my ancestors taking down an animal to feed the family.
For a while I was making steaks on my frying pan, and they were alright, but not exceptional. Another negative of making steaks on a frying pan is it will fill your kitchen with smoke. This is not good if you have smoke detectors going off in your house.
I went ahead and got a gas grill to take my meat game to the next level. Now, a lot of purists will claim you can only grill with charcoal. I respect that, but what I was looking for was a way to make great steaks in a minimal amount of time along with the ability to have a grill for backyard barbecues. Gas grills work perfectly fine to make a great steak. I know this because I make great steaks on a gas grill.
I don't even have a super expensive laser beam unit from NASA, just a basic 3 burner gas grill with liquid propane. It works fine.
Here's how I do it:
Get a cut of steak that you like. I usually will go for a big new york strip or ribeye.
If it's been in your freezer, put it in the refrigerator for 24 hours to thaw it out.
Ignite your grill outside and set the burners to slightly more than the lowest setting.
Put the steak on the grill and set a timer for 4 minutes.
While the steak is on the grill, go inside and get your frying pan out. Put some sliced potatoes on with some oil set at medium to high heat.
When the 4 minutes is up, go out to the grill and flip your steak. Set your timer for another 4 minutes.
Go back inside and check on your potatoes. Flip them over to make sure they are all cooked through. After about 2 minutes, put the potatoes on your plate.
After the 2nd 4 minutes is up, go back outside and grab the steak from your grill. Throw it on your plate and you're good to go.
Make sure to turn off the burners and the propane so you aren't wasting it.
You may have to adjust your timing with some trial and error with your steaks, but that's all part of making steaks. 4 minutes both sides on low usually works pretty good for me with a thicker steak. It comes out pretty rare which is how I like it.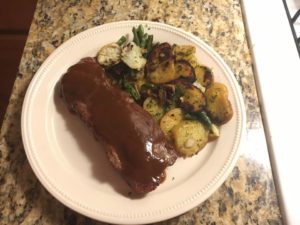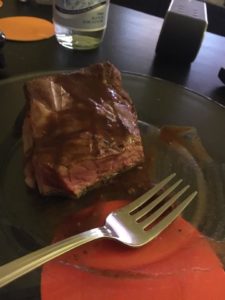 Hopefully you have a nice set of steak knives to cut your steak with. Don't be a rook and cut the whole steak apart before eating it. The way to do it is to cut one piece of steak off, then eat it. Then cut your next piece of steak off and eat that one.
This way your steaks stays warm the whole time you're eating it. If you don't have any steak knives, get an inexpensive set so that you can easily cut slices of steak.
Variations
At some point this may get tiring to you. I'm not saying you have to eat this stuff every day forever. I have eaten it every day, and even though I can go a long time, I eventually get tired of it and change it up. One of the best ways to change up your daily meals is by using a crock pot.
Using a crock pot to make your meals is one of the easiest things you can do to be healthier. The process is so simple that you have to be completely nuts to mess it up. You can make stew really easy in a crock pot. Essentially you get a bunch of materials and throw it in. Hit start and it does the rest.
Here's some simple ways to make meals for the week:
Get some kind of meat and chop them into pieces. Chicken breasts, flank steak, ground beef, etc. It all works well and you don't have to be really picky.
Get some filler for your stew like beans, vegetables, rice etc. Throw it in with your meat.
Depending on how liquid you want your stew to be, fill your crock pot with water, vegetable stock, beef stock, etc.
Hit cook for the low setting and let your stuff sit for 8 hours.
8 hours later, pour your stew into a container and eat.
Here's a great aspect of using a crock pot, you can just set it and forget it. You don't have to put much work into it other than dumping a bunch of stuff in and hitting start.
What I like to do is throw a bunch of stuff in, then start it when I'm sleeping. That way I don't have to wait the 8 hours. I just go to sleep, and when I wake up I have a bunch of meals waiting for me in my kitchen.
The only thing you really have to worry about with using a crock pot is to clean it after you empty it of it's contents.
Don't wait around being lazy as the food will get stuck to it pretty easy and it's a real pain in the ass to clean once it's stuck to the bowl.
Get Eating
Follow these base guidelines for eating and you'll be healthier than 90 % of the people out there and you'll feel great.
You'll also enjoy saving a ton of money and time to give you the freedom to do other things in life.
-Tate