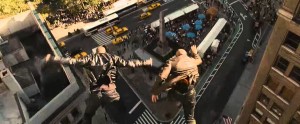 There is one mindset for aspiring business men I have found that works wonders, and that is diving right into a project.  I have found that every time I just decided to start something I ended up doing it to completion.  The more I thought about a project, the less chance there was of actually doing it.
When we conceive of an idea in our head, usually we start by reading about how to do it.  I have done this many times and where I get stuck is that I'll go on reading about the subject forever trying to figure out the absolute correct way of doing it.  I hold out waiting for the perfect circumstances to start my project.
The problem with this of course is that there are no perfect circumstances, and there never will be. I'm just postponing starting because I'm scared.
Fuck Postponing
The Key:  Stop obsessing over minor details about how to do a project you haven't started yet.  Start, then figure it out along the way.
I have decided to start the Striving For Freedom Cast today and I'm diving right in.  It's been about 4 years since I did my last podcast and it's extremely uncomfortable.
I'm going to get better audio quality in the future and will also be getting new sound effects.
In the future I plan on having some successful business owners on about building a business from scratch and what it takes to win.  I also will have some SEO experts talk about their craft and how you can use it to get more business.  Furthermore, I will be bringing on some creative people to talk about how they do their art.
Stay tuned my friends.  More is on the way.
Show Notes:
Mike Cernovich:  Danger and Play, Twitter
Location 180 Building a Facebook Page
Follow me on Twitter
Follow @Tatetime