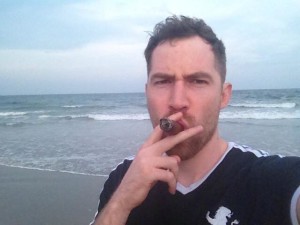 Ladies and gentlemen, I have discovered something so ground breaking in the self development field that I need to speak on it. I first caught wind of this revolutionary technique for attaining health about a year ago. I have experimented with it since then and can confirm with 100% authority that it's true – smoking is healthy.
I know what a lot of you are thinking. You're thinking I've gone off the deep end. I can hear you saying, "Clearly smoking is bad for you, all the grown ups have told me that for years!" As with anything, there's a cost benefit analysis that needs to be done before undertaking anything.
I've done the cost benefit analysis and I say the hell with the haters, the benefits of smoking outweigh the costs by a lot.
Cigars are Meditation
When I say smoking, what I really mean is smoking cigars. There's a lot of advantages to smoking cigars over other methods. Smoking cigars is an experience, it's not just an efficient nicotine delivery system like cigarettes are.
Smoking cigars cultivates patience. Cigars aren't meant to be smoked fast and a good cigar could last you a couple hours. As a complete crackhead caffeine addict, my first instinct while starting a smoke is to puff away really fast. Then I settle down and get more in the moment. This allows me to contemplate life.
Cigars smoke isn't meant to be inhaled. It's brought into the mouth and savored and either exhaled from the mouth or from the nose. This brings you even further into the moment. Every puff is a unique pleasurable experience.
Cigars aren't as dangerous as cigs
I'd argue that Cigars are less dangerous than cigarettes.  When we get down to it, tobacco products aren't good for you in the long run and have the potential to cause cancer.  However, I'm not smoking multiple cigars each day. I just have one every now and then and I'm not inhaling. I'd say there's a minimal cause for concern.
Of course at this point, I'm sure someone will put up an example of someone who got mouth cancer by smoking cigars.  To that I'd like to say two things. First this site is about freedom.  We're all adults here and can smoke crack if we wanted to. Not advisable of course. Second, I offer the case of Richard Overton.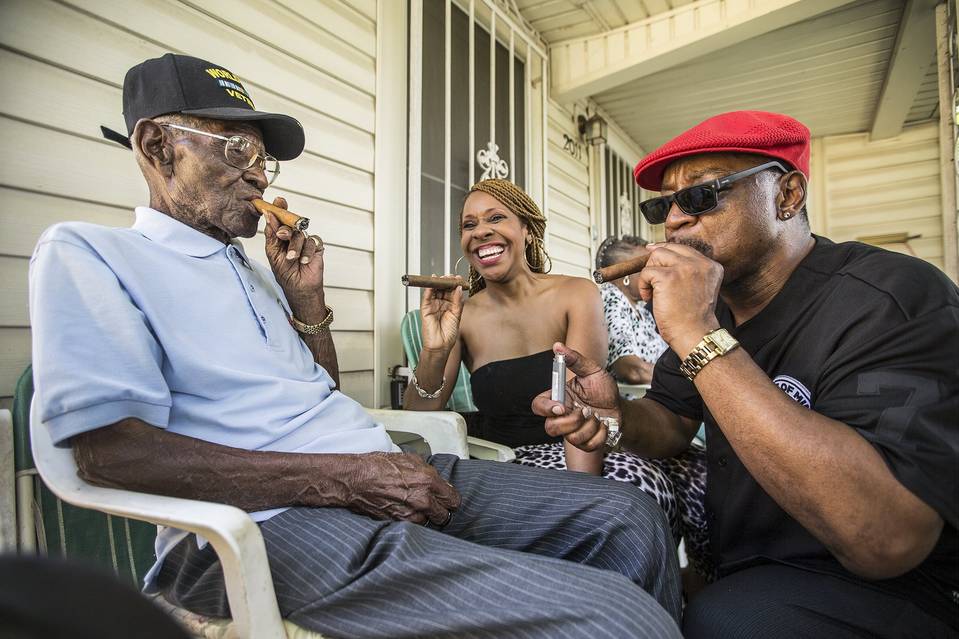 Richard is a 109 year old WW2 veteran.  He attributes his long life to smoking cigars and drinking whiskey, which he still does every day.
Cigars are Community
Because it takes so long to smoke cigars, it leads to sitting around smoking them. This experience is enhanced by adding more people into the mix. Sitting in a circle with your mates and shooting the shit really is a great experience. If there's one thing that I miss from my youth is seeing my friends every day and just talking. Cigars brings that back a little.
In fact, going to a cigar lounge and talking with random people sitting there smoking may be the last bastion of masculinity left in our insane world.
I say this knowing full well that only one of my friends smokes cigars on the regular. A lot of the time I'll head over to his crib and we'll just sit there talking for hours on his back porch smoking.
Cigars are Relaxation
In this crazy stressed out world we're living in, kicking back and smoking a cigar is an act of absolute relaxation. There's nothing better than getting a day's work done and sitting back on your property and smoking a cigar.
So much is written about tobacco being a negative that not many have written how it's such a relaxing experience to just sit down and have a smoke.
Cigars are a great excuse to take a moment out of your day and relax.  Utilize it.
Cigars are Creativity
A big part of what I do for a living requires a good amount of creativity. Even just crafting articles for people where the content of the article is specified before hand, I still have to come up with a coherent way to assemble it. The best method to let the creativity flow is to get out of my own way and just let go.
Believe it or not though, the nicotine from cigars is a huge creativity boost. Something about being charged up on nicotine helps me just let the ideas fly. Test this out for yourself, it's really pretty amazing.
Getting out of your own way is also associated with the ritual of smoking cigars. Maybe I'm a little OCD, but something about doing rituals gets my mind focused in the right direction. Recently I was just on vacation at the Jersey Shore and I had a smoke on my deck.
The ritual of having a smoking space set up, my laptop out, and the waves in the background made for an exceptional creative writing experience. Something about having everything set allows my mind to stop thinking about everything and just concentrate. Cigars help with this as it's a great ritual.
Where to get Cigars?
The easiest method to getting good cigars is to go to your local tobacconist. If you have no idea what you are doing with cigars then it's best to go to one and talk about cigars as a beginner. They should steer you in the right direction and get you started the right way.
The only problem with this is that tobacconists in the USA may be hard to come by in your local city. You may be forced to drive miles in order to talk to a competent one. This just isn't convenient in the long term. Trust me here, I used to work in a beer store that sold cigars and looking back now, the guy who ran the operation had no idea what he was doing when it came to cigars.
Thankfully, we have another great option available to us in the internet age. Crafty entrepreneurs have started some e-commerce stores selling cigars. This is great because new cigars are merely a click away. The cigars come in a air tight bag with a little humidity packet to ensure your cigars stay fresh.
Another plus with ordering cigars online is that the selection is usually pretty great. Online retailers will have stuff that is really unique and often times only available to them.
I like to think I have a great fan base here at SFF. Last month I wrote about niches that Men could get into and start a website about. These were all man-topics that would also cater to men buying things on the internet.
One of the topics I discussed was cigars. Turns out one of my readers runs an e-commerce store for cigars called cigarscity.com. As a result of reading my article on niches for men, he contacted me to tell me that he was going to send me some cigars as a gesture of good will. I thought this was exceptionally rad.
As an aspiring entrepreneurial savage myself, I had to check out the site in detail. Turns out it's really great.  Awesome selection, great user interface and navigation, and really good product descriptions. Take note, this is how you run an e-commerce store.
Great Cigars
A few days later, I was like a kid on christmas finding a package in the mail. I opened up the package and found 2 Rocky Patel Sungrown and 2 Ave Maria Charlemagne sticks. I also received a personal note from Anthony at Cigars City that was very nice.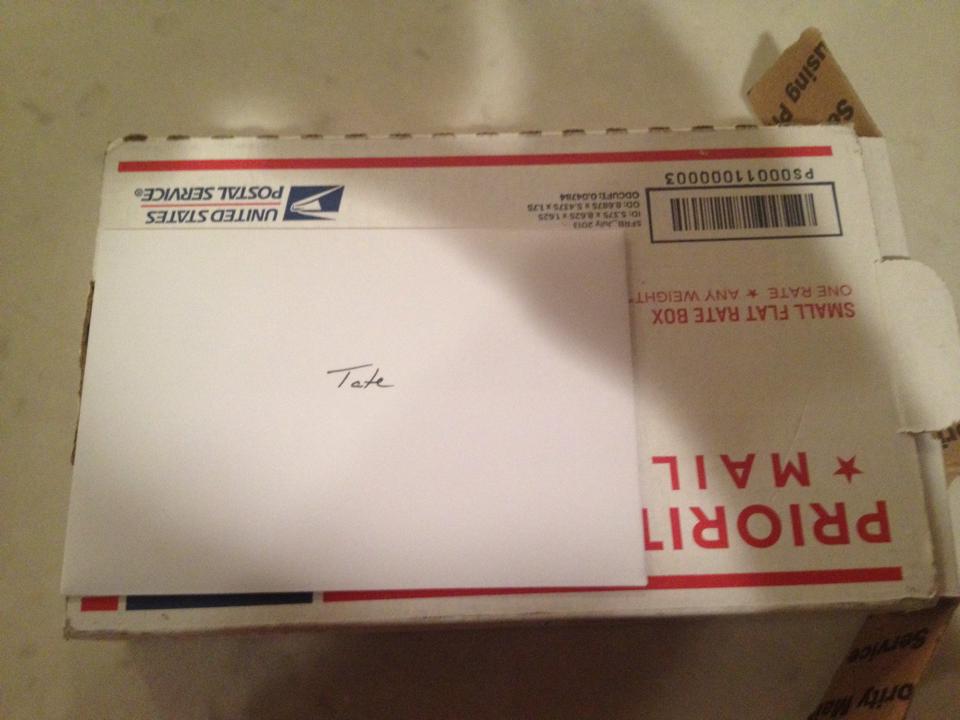 Rocky Patel Sungrown
After opening the package I decided to have a smoke that night. The first one I went with was the Rocky Patel Sungrown. What a beautiful experience it was to just sit out back of my place and just relax with the sun going down. The cigar itself was a very full bodied cigar with notes of pepper, spice, and molasses. As you take a draw your mouth fills up with an extremely thick dense smoke that is very strong.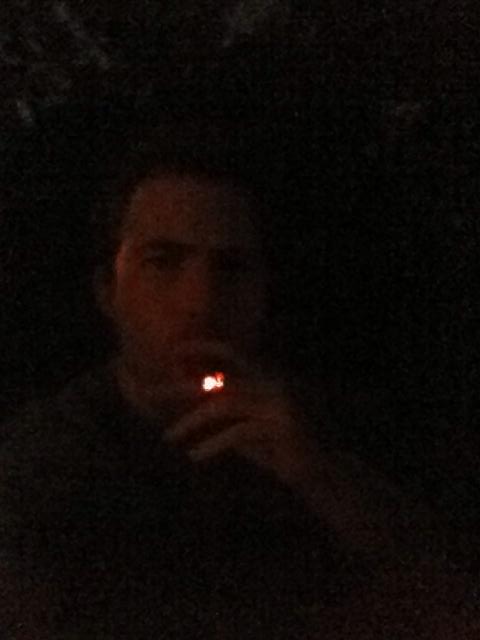 This cigar was possibly a bit too strong for my tastes as I like more of a medium cigar, but it was an exceptional smoke. I wound up getting a bit loopy from this cigar, but may be because I smoked it a little too fast. Nothing I couldn't handle, but if you're new to smoking or don't like nicotine rushes, be on the lookout for this. This cigar burned exceptionally well right to the end. The only downside I could see was the draw was a bit more difficult than I'm used to. Overall a great cigar.
Ave Maria Charlemagne
When I was on vacation at the Jersey Shore I decided to break this cigar out to try. I went out on the deck and just sat writing and smoking the cigar for 3 hours or so. This is a really long cigar at 7.5 x 54 so I planned to be smoking for a while.
This was my favorite cigar I've smoked to date. This had the perfect amount of strength for me. It was a medium bodied cigar with just a little more to it than usual medium bodied cigars. I hope that makes sense. In between full and medium I guess.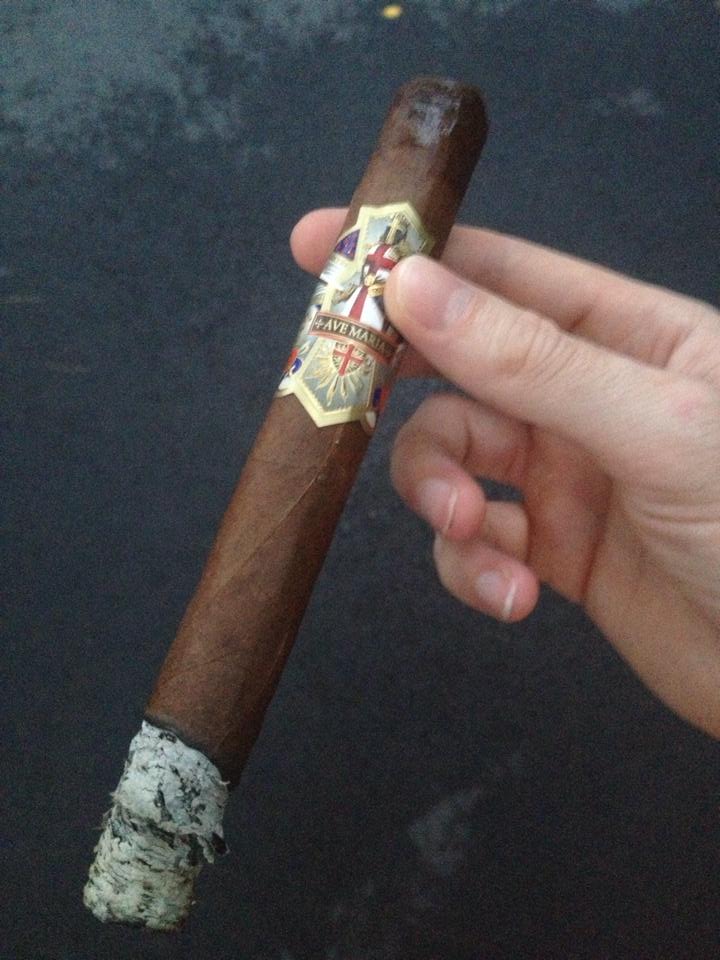 I tasted notes of cream with touches of spice and coffee with an earthy aftertaste. This is the perfect cigar if you are trying to just chill and get some work done. Not overpowering at all, yet still great tasting with enough umph to satisfy.
The burn was perfect on this cigar the whole time, which is pretty impressive considering how long this cigar was. The draw was also perfect.
Another thing to mention that is awesome about this cigar is the wrapper. Obviously the wrapper isn't important when it comes to how good a cigar is, but if the wrapper is good it's icing on the cake. Ave Maria's wrapper is top notch.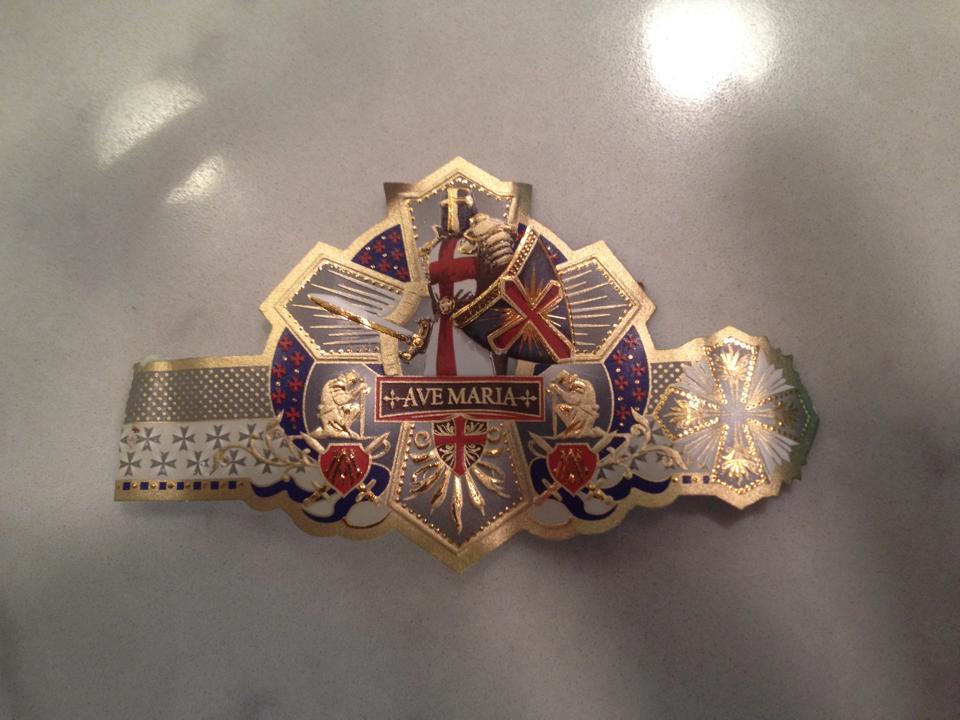 The only drawback was that this thing put off a lot of smoke. If you are in a confined space like a car, expect for it to be filled with smoke in a few seconds. I don't care too much about this aspect but it's something to consider.
Overall, a really great cigar that you will no doubt enjoy.
Conclusion
If you've made it this far into this article I'd like to thank you for taking the time to hear me out. I know a lot of people will tune out as soon as they read this headline, but if you can keep an open mind about this I think you can get a real benefit out of it.
If you've never smoked a cigar before, give it a shot. Get a couple friends together like the old days and just sit around talking shit. You have no idea how therapeutic this is until you do it.
Great events to smoke a cigar:
Fantasy Football Drafts
Weddings
House Warming Parties
At the Beach
I'd like to thank Anthony from cigarscity.com for sending me some stogies. We had a number of conversations about business and e-commerce and he's a cool dude. Absolutely check out his site if you're looking to try some cigars.
What do you guys think? Pro or Con on smoking? Leave a comment below with your own cigar stories and favorite cigars.
-Tate
Check me out on Twitter
Follow @Tatetime