The popular saying among internet marketers is that the money is in the list, and with good reason.  Let me get this out of the way right now, as a beginner blogger, you need to be collecting emails from the start.
We can talk all day about SEO and Social Media, but the fact is that both of those avenues for traffic could be taken away at the slightest change of their algorithm.  Absolutely use every channel you can for traffic, but you need to be funnelling that traffic to your own email list as well.
Once you get a list of subscribers built up, it's easier to maintain a certain level of traffic because people who sign up for your list are already saying yes to your content.  It's a small step to get them to open an email from you and look at your latest post.
How to set up your list.
In order to set up your list, you will first need to sign up with an email autoresponder service.  There's a couple different companies that you can go with and each offers pros and cons.  For the sake of simplicity though I would suggest using Aweber or Mailchimp.
Out of the two of these services I would suggest going with Aweber as it has more robust features.  With Aweber you can set up multiple different lists, set an autoresponder series of emails to go out, and has a very simple to use drag and drop user interface for designing emails.  Aweber can be tried out for $1 for the first month and $19/month after that.  However, I believe that the price is worth it for what you get in return.
Your other choice is Mailchimp which has one advantage over Aweber in that it's free up until a certain subscriber limit.  Mailchimp offers some of the same features as Aweber except you can't set up emails to be sent at specific times to a new subscriber.  Another thing is that if you wanted to use Mailchimp for free for a while until you reach your subscriber limit, you won't be able to transfer your list of emails to Aweber later because of anti-spam laws.
In other words, I would just sign up for Aweber and use the from the start.
Create an opt in form.
Using your auto-responder's software, create an email opt in form for your site.  Opt in forms are merely the little boxes you see on people's sites to collect email addresses.  Usually they are located in the sidebar as that's where people's eyes usually gravitate towards when landing on your page.  Later on experiment with placing your opt in forms on other areas of your site like after posts and on your about page, but for now just place one on the top right hand side of your sidebar.  Typically they look something like this: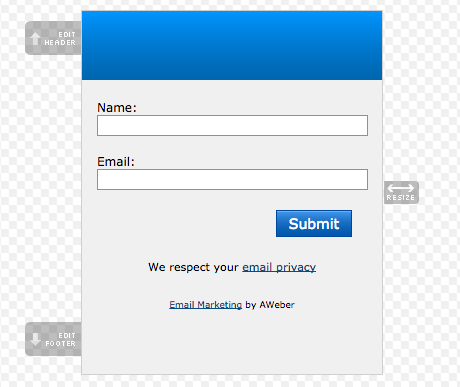 Create some product to offer for signing up.
People usually don't just sign up for email lists these days without some coaxing.  You want to do everything possible to encourage people to sign up for your list.  The easiest way to do this is to create some type of product to give away for free in exchange for your reader's email address.  Here's a series of emails a gentleman by the name of John Doe Bodybuilding is giving away for signing up to his email service.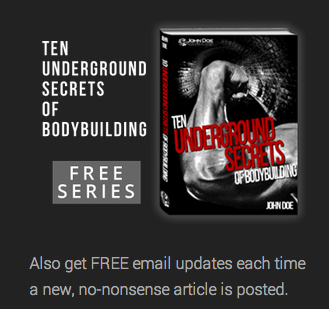 Typical examples of products to give away for free are ebooks, email courses, audio files, or videos.  For example, as a result of you signing up for my list, this email course on blogging is being sent to you over the course of a couple weeks.  Using Aweber allows me to send specific emails on a set schedule to someone upon signup.  Once you set up this system you don't need to go back and change it.  It's usually set and forget, unless the information isn't pertinent anymore and would require an update.
Make sure that whatever you are giving away for free actually has value for the reader to encourage open rates in the future.  This is critical because what is the point of a list if no one is reading your stuff.  Wow them right off the bat and people will want more of your content.