reddit has one hundred million visitors a month.  Those are some staggering numbers.  Posting your links on reddit, you could tap into that number and get serious traffic to your site, but the trick is you have to play it right.

The thing with reddit is that their users are extremely savvy and can spot when people are just spamming.  The trick is to come off as an authentic user who will occasionally post links from their own site.
So how do we come off as an authentic user?  There's a number of ways to do this, but the easiest is to actually be an authentic user.  Users can look at your profile and see the complete history of everything you do, so if you really want to maximize the results of this strategy, just spend a few minutes every day going on reddit and commenting and voting on different threads.
Here's how to set up your profile:
1)  Create a profile on reddit immediately.  The reason for this is that you will be trusted more if you have a long history on the site.
2)  Make the name of your profile your site's name.  You could go the other route and create multiple fake users, but remember the point is you are a blogger.  Better to build trust from the beginning than potentially harm your brand by spamming links on reddit.
Thats it.
Now the beauty of reddit is that you don't have to get on the front page to have any kind of impact.  There are subreddits that each have their own homepage, and there is one for nearly every niche out there.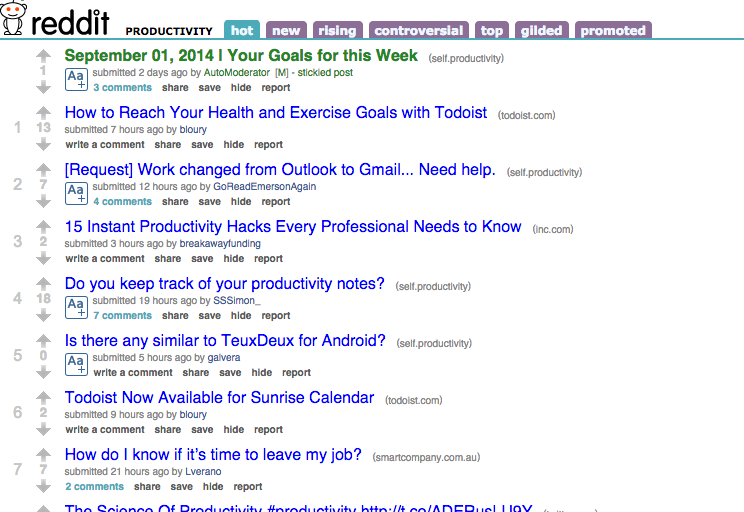 Go in the search bar and search for your niche.  The results will show a number of subreddits in a grey box that are related to your search term.  Go through them and see if the subject matter is related to your site.  If so, subscribe to the subreddit.

After you are subscribed, that subreddit will appear in the top bar of the site for easy access.  Fill that bar with subreddits associated with your niche.

After you have about 5 subreddits that you like, start commenting at rating in all the threads.  Do this for a couple days before you start attempting to post links.
Finally, post a link from your website.  When you post a link, focus on a couple things:
1)  Make sure to read the subreddit guidelines on posting links and follow them.
2)  Have a headline that really pops and grabs attention.
3)  After you post your link, respond to people in the comments section.
A nice handy way of creating a good headline is to see what is already working.  Check out the headlines of other posts that have a high vote count and a lot of comments.  Emulate what they are doing but put your own spin on it and you have a winner.
Don't fall into this trap
reddit is a really great way to get more traffic to your site from people who are already interested in your niche, but don't get carried away.  If you are not careful, you'll easily find yourself wasting hours and hours of time reading a bunch of goofy threads on reddit.
Use reddit for your business goals and limit it to that.  Remember that first and foremost we're bloggers, not redditors.