One of the most interesting articles I have ever written was my experiment on not using deodorant for a week. I say it's interesting because for some reason I was able to rank #1 for a few related keywords to not using deodorant.
I'm a fairly skeptical mind and I had this idea in the back of my head that deodorant wasn't really necessary. It was one big hypnotic spell everyone was under. Somewhere along the line, someone started wearing deodorant, then they taught their kids they had to wear it too, and so on down the line.
I have proven to myself at least that deodorant doesnt need to be worn every day. What's important is making sure to wash yourself. However, there were a few situations that occured that made me question this.
These situations are what I would call "stressful" situations. I've been to a few clubs where I was in a confined space with a ton of other people. This made it very hot in there. Along with the heat, the stress of hitting on girls or dancing gave me stress sweats under the arms.
I've always found that when I start getting stressed out, my armpit sweat smells a lot worse. I was starting to see some limitations to the no deodorant method.
I started to wonder if there was some item I could use for deodorant that worked better than regular deodorant and was healthier.
Travis Frost sends his tough love
When I posted my article about not wearing any deodorant, I got on the radar of a man named Travis Frost. Travis is a real straight shooter and saw folly in my argument that people don't need to wear deodorant. Here's what he had to say:

I'm going to assume that Travis was right and that everyone around me was being nice. Perhaps I did smell foul as hell and making the world Travis lives in a horrible place. I shall take your advice good sir and I will stop this odor dead in it's tracks!
For everyone else that read my last article and was digging what I was saying, but didn't want to smell really bad, I have an incredible solution!
The Solution
Wearing deodorant is pretty horrible. It's a bunch of gunk you put under your arms that in my experience only marginally masks your natural funk and may in fact make it worse.
I wasn't about to go back to using that garbage. However, I was now certain that everyone around me was putting on a face in order to not make me mad by telling me I smell.  I can't really blame them because I could fly off the handle at any moment and start kicking people in the head.
I was at a real crossroads here in my life, and the answer came in the most unlikely of places.
While digging around on the internet for a while, I came upon some articles on deodorant alternatives. One that really stood out though was by a gentleman named Roosh. If you're not familiar with Roosh, he talks about picking up chicks and traveling the world.
I saw this article and I had a hard time believing it was this simple.
The solution was to just rub baking soda on your armpits.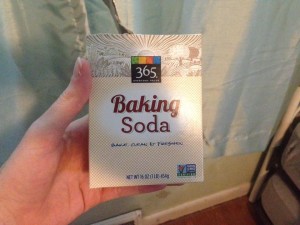 Extensive Testing
I actually read Roosh's article some time last year, but it wasn't until a couple weeks ago that I decided to put it into action. I can't remember the exact reason as to why I mad the decision to start trying it, but I started doing it for a few days.
My process was that I would get a shower, then I would go get pants on and take the baking soda into the bathroom to apply it.
I would take two fingers, place it in the box, and rub whatever was stuck to my fingers into my armpits. I like to take three "dips" into the box to get enough baking soda to rub all over the area.
I make sure to do this in the bathroom over the sink because this powder falls all over the place.
The first day that I applied the baking soda, I made an effort to smell my pits through the day, and I was astonished.
Not only were my armpits lacking any smell of any kind, but the shirt I had on had no smell either. Through the day, the smell never got worse. I just didn't have any odor going on under there. Back when I was wearing deodorant, there would be yellow marks on my t-shirts or dress shirts. Not here. No yellow streaks to be found anywhere.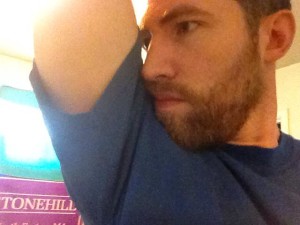 The next day I got up and immediately tested out the pits. Again, no smell of any kind. That's when I knew this stuff was legit. Normally when I wake up the next day there will be a noticeable funk going on. Not anymore.
So I went the whole week wearing baking soda under my arms and I experienced zero body odor at all. It was incredible. Not only did it fill the role that traditional deodorant had, but it went above and beyond my expectations and worked much better. I was pretty sure I had a real breakthrough here, and yet I couldn't get the words of Travis Frost out of my mind. Maybe I just couldn't smell my own funk and everyone was being nice.
I said the hell with that and made people around me smell my armpits too. I then forced them through threat of physical violence to take a whiff of my day old t-shirts. Although reluctant at first, they eventually took a whiff and were surprised at how great I smelled!
At this point I had a real winner on my hands. I only had one more test for the baking soda deodorant and that was a "stressful" situation. I was in luck. My friend was getting married that weekend.
The next day I got ready for the wedding by throwing on a v-neck undershirt, some baking soda, a white dress shirt, and a two piece suit.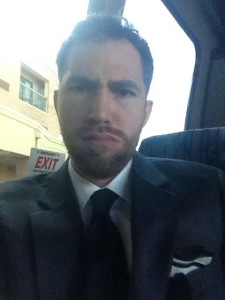 I had to drive from Philly to North Jersey for the wedding and walked around all day in a suit. Then I drove home again speeding like a complete barbarian. Upon getting home I was blown away that my pits smelled fine. There was absolutely no odor to speak of.
Now, I must say that using baking soda to combat wetness under the arm pits isn't really effective. I'm not a really big sweaty guy, but in a stressful situation like a wedding I'll put out a good amount of sweat under the arms.
After coming back from the wedding there was still a good amount of wetness, but unlike every other time in my life that I've sweat through a shirt, there was absolutely no odor to speak of.
Conclusion
If you are someone like me who has had challenges with deodorant for years, give baking soda a try. It's been a real revelation just how effective this simple household item is for combating odor.
If you want some baking soda, look in your kitchen cabinet. Most everyone already has this item already.
If you want to order some baking soda online because you don't have any, you can get some here.
If you order through my link, I'll get a couple pennies.  Thank you.
-Tate
Check me out on Twitter
Follow @Tatetime