Never argue with a fool, onlookers may not be able to tell the difference.
-Mark Twain
Stop arguing with people
I have always found myself getting into arguments with people about stupid stuff.  I would sit there arguing points on a topic and find myself getting angrier and angrier with someone who just "doesn't get it".  If the person would keep arguing with me I would assume they are dumb for not understanding my points.
I realized that it was making me angry and I made a conscious effort to stop arguing with people and I have been much happier.
My a-ha moment
I was at a friend's house recently and another gentleman started arguing with me.  This guy wouldn't leave it alone.  I stated my points and he kept trying to convince me I was wrong.
I have had arguments with this person in the past about the smallest of things.  I realized that this person likes to argue bitterly about stuff all the time with everyone.  This made me think about how I really don't like this person.  Literally all my interactions with him have included some kind of stupid argument he's trying to make.
I started to wonder if this was how everyone saw me when I was arguing with them.
Arguing is all about a display of power
Arguments come from the belief that you are smarter than others.  The way to prove that you are smarter and superior to others is you show them how they are wrong.  We like to think that we are helping others or making points, but the reality is that when you are arguing with someone, you are just jumping at a chance to show them they are wrong.
Unfortunately in this day and age, most arguments being made are childish ones.  Low attention spans and little respect for others makes arguments into shouting matches very quickly.  You can actually feel this during the argument.  Very soon it's not even about what you were talking about, it's a power play between two parties, and neither one wants to back down despite the facts.
Facebook is a cesspool of dumb arguments
Facebook is becoming worse and worse by the day.  Facebook is a big game of one upsmanship.  My advice would be to stay off Facebook as much as you can for a myriad of reasons, but one of the biggest reasons is that people are arguing about the dumbest stuff.  These arguments are really heated.
Go on any news page like Fox News or CNN and look at the stories they post.  Then take a look at the comments section under the story.  It's usually filled with people writing huge diatribes going back and forth with another.  Because of anonymity, people will say some of the most outlandish shit you will ever hear.  They would never think of saying this to another random person in real life.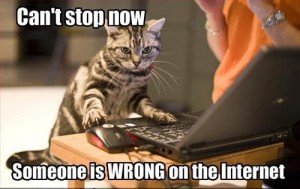 I have started to see this with people that are my friends as well.  They post some topic to get a response from people who hold a different viewpoint, they they argue endlessly in the comments.
Look at some of the arguments people make next time you are on there and realize how crazy they would look if they were face to face yelling at each other.
Arguing on facebook is a black hole that will waste your time and make you infuriated at someone, cut it.
After you stop arguing, you feel like garbage
Having to come up with point and counterpoint to someone's arguments is mentally taxing.  After an argument, usually I will feel tired and depressed.  Arguing with someone takes a lot of effort and energy that you could be using for something else.  A lot of times when arguing with someone, one of the parties will eventually just give in and stop arguing.  They do this because they are tired of arguing, not because one side of the argument was agreed upon.
Whenever I get into an argument with someone, I would always think less of that person afterwards.  Again, this doesn't really have anything to do with being right or wrong.  It's always about the insult of being questioned.  When you are going back and forth with someone, the subtext is usually something like, "how dare you question me".  It's annoying and negative.
No one wins arguments
I have never witnessed a heated argument where the person finally comes to their senses and admits they were wrong.  They always end with one party stopping the argument and there being an awkward silence.
You will most likely never convince another person that you are right in an argument because to admit that would be to admit defeat.  Most people will never admit defeat and would rather keep arguing and be wrong.
Even if they say they agree with your viewpoint, they likely just want to stop arguing.  They still believe in their original argument though.  Knowing this, there isn't really a point to argue with anyone.
Question why it is that you care about changing their mind about something anyway.  If all you can come up with is that it's to prove them wrong, just stop.
Political arguments are the worst
I hesitate to even bring up political arguments because I don't want people wondering about my political beliefs or trying to instigate arguments in this area.  The reason I bring it up is because politics are the origin of a great percentage of stupid arguments.
You should avoid political arguments at all costs.  They serve no point at all.  No side is ever going to admit defeat, so the arguments never stop.  Besides, a lot of the time your own politics are formed from what your parents believe.  A lot of the people spouting political arguments on both sides of the isle didn't even form those beliefs themselves.
There's a reason that politicians do stuff that seems partisan, it's called divide and conquer.  They get everyone arguing about stuff that doesn't matter and it gives them free reign to do everything else without people noticing.
Becoming the grey man
The easiest way to get out of an argument is to prevent yourself from getting sucked into one at the very beginning.  The way you do this is by becoming the grey man.  The grey man is someone who doesn't get noticed or blends in with his environment.  I don't advocate being the grey man in the rest of your life, but it's certainly a great option when confronted with an argument.
When you feel a really dumb argument about to commence, say something like, "Yeah, I don't really know about any of that."  Or play dumb and say, "Boy, that's just all over my head.  Not sure."
This kind of response usually will stop the argument right away.  The other party believes you are too dumb to present an argument so they stop.  Let them believe that.
When you become the grey man, you're feigning ignorance in order to keep yourself from being brought down.  Use this wisely.
Like this post?  Check me out on Twitter.
Follow @Tatetime