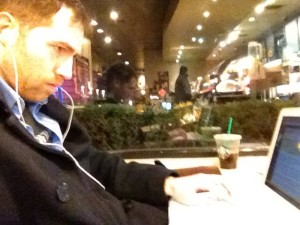 Before leaving my 9-5 job, I sat down for a few weeks and planned exactly what I was going to do in order to get money.  The problem was that I needed to quit my job fast because I was at the point where I was going to body slam my supervisors through a brick wall.
In order to be able to quit I wanted at least something I could make a few bucks with right away.  I remember reading an article at the time on something called "SEO writing" by a gentleman named Kevin Cole.  This seemed pretty straight forward and I knew I could write, so I gave it a shot.  Made a few bucks here and there, but it seemed as though since this article was written, the game changed slightly.
Since then, I've had to adapt to new challenges in the freelance writing field such as people expecting work for pennies, and the real challenge it is to get an in at an SEO agency via outreach.
After coming up with my new strategies, I found Robert Koch of 30 Days to X.  He recently put out a course on being a freelance writer himself and it meshed with some of my new strategies, so I knew he was legit.  If you'd like to get a real pro's take on this subject besides what I offer, I would absolutely recommend going over there and sending him a line.
Before we start…
I'd just like to say that when you start out in freelance writing, it's not going to feel much different than working for someone else in a typical office cubicle.  It's still tedious work day in, day out.  That being said, freelance writing offers some great advantages.
For one thing, you can start doing freelance writing right away.  Anyone who can read and write English can start this immediately.  You don't need any certifications or college degrees here.
Another thing is that you are working for yourself.  You set the hours, you decide when to take lunch, you decide how many days off you get.
Finally, there is potentially a lot of money to be made here, even just writing beginner 500 word articles. If you treat this like any other job and work 8 hours a day at it, you could make more than enough to live on.
Who is this for?
Let me relay a story about someone I know.  My friend got laid off from his job recently and still has a bunch of stuff he has to pay for.  Obviously unemployment and his severance will cover a few months, but eventually he'll have to get another job.  Unlike me, he couldn't plan his exit strategy because it was a sudden surprise.
When your back is against the wall like that it forces action.  He went out in the job market and was able to find himself another job, but there was a period of a couple months where all he wasn't bringing in anything.
Day one he could have started making money doing freelance writing and still go out and find another job if he wanted to.
Here's another possible scenario for you.  Another friend of mine told me he hates his job.  Half jokingly I told him to just quit.  He said he needs the money.  I said, no problem, here's what to do.  After you get home from your job, you go to work at your second job of freelance writing.  You get so good at it that you feel confident to quit your day job.
Bottom line, anyone who doesn't like their job and is looking for a way out, or is desperate in any way to just start making money can do so with freelance writing.
Starting out
When I first started out in freelance writing, I skipped a bunch of steps.  As a result, I had to kinda backtrack before I could ultimately progress.  Learn from my mistakes and get your bearings in the business before setting up your own site.  We'll get to that in the future, but right now it's important to start working as soon as possible.  To do this I'd advise starting your career with freelance sites.
The process at first is extremely simple.
Sign up at multiple freelance sites.
Write a professional profile.
Create a portfolio of work to showcase.
Go right now and sign up on all of these sites:  Fiverr, oDesk, Elance, guru.com, and freelancer.com.
After signing up for all of these sites, write a profile for yourself.  The best way to go about this is to consider yourself a business at this point.  Don't goof around and make your profile silly.  Give yourself a professional looking picture, and be professional in what you say about yourself.  Also of importance is telling the potential client what you can do for them.
If you need some help in this regard, think Linkedin.  If you have never used Linkedin before, go ahead and sign up for it and see how all your friends' profiles look on there.  It's usually a big contrast between their Linkedin profile and their Facebook profile.  The reason for this is that people use Linkedin for networking and for getting business.  People use Facebook for goofing off and posting Cat videos.  Be professional.
One thing I like to put in my profile is that I am a native english speaker, and I also currently reside in the United States.  The subtext of this is that I will be a better writer than the hordes of people who will do work for pennies, but give a shoddy product in return.  I know this because I have experience hiring article writers myself.  The stuff they gave me I had to edit so much that I could have better used my time writing the stuff myself in the first place.
A note on Fiverr
When starting out give Fiverr a look first before the other sites.  It's the easiest to set up and customers actually come to you, so all you have to do is sit back and wait for orders.  The problem is that every order on Fiverr is for $5 dollars only, so you won't be making much money.
It is a nice way to get a feel for everything and once you start making money on there you'll feel the rush of making money online.  This should fuel you and make you believe it's possible.  Just don't get caught up there for too long as you can make more money on the other sites.
Another great thing about Fiverr is that you can come up with any crazy idea you want and make $5 dollars with it.  Take a look around at the popular gigs on there and you'll get an idea of what I'm talking about.  People are actually making good money on there for other things besides freelance writing.  The question is do you want to do some of the zany things they do for it?  The key here is to do something that people want that takes very little time to do.
Moving forward
Now that you have all your accounts and profiles set up, just sign in to every site and start sending out bids on projects every day.  On every site, you should send out a handful of bids every day.  The important thing here is to just keep sending bids out.  By doing this on multiple sites you will guarantee to fill your time with projects to work on.
After doing this for a while you should have built up a substantial list of people who are repeat customers.  You should also be building a profile of different writing you have done for different niches. At this point you want to build a portfolio to market to people to move from writing entry level 500 word articles to doing higher paying copywriting and larger articles.
With any job you take, always be thinking how you can use this to better market your brand.
Rates
When you are just starting out, you may have your rates on the lower end of the spectrum in order to attract more clients.  Don't make the mistake of getting stuck at this price point thinking that you'll never get work otherwise.  What you need to do after a certain amount of time is raise your rates.
This has two effects.  First, it will allow you to work less for more money.  Or, you could work the same amount and double your money.  Either way you are getting paid more in time or cash.  Second, freelance sites being what they are, there are a lot of clients that are a pain in the ass.  There will be a lot of clients that will attempt to nickle and dime you for work.  You want to attract the best clients.  The best clients will be the ones that stick with you at a higher rate.  This causes less of a hassle, and makes your life much easier.
You'll have to figure out the specifics of this for yourself, but as an example, I started out around $10, and quickly moved up to around $15, and then to $20.  This was just for writing articles.  Once you have built up a portfolio, you should be charging more for bigger projects such as copywriting and full articles.
Take action
Anyone who needs money now can do what I just said in this article and start making cash today.  It only takes a couple minutes to set everything up and start sending out proposals.  Just sit down and do it.  Get to work and be on your way to making money online.
I warn you though, once you start making money online there's no turning back.
Future Installments
I'll be writing more on this topic in the next couple weeks.  Some of the topics I'll be covering are:
How to set up your own site and start working for clients directly
Why you should look into Copywriting
How I made $4000 for a few hours of work
How to get clients who will throw money at you
How to easily get SEO clients to write for with a system no one is talking about
I have had some real success here with some unorthodox methods, so check back later for more info.
-Tate
Hit me up on Twitter
Follow @Tatetime
Become a Freelance Writer Part 2
Become a Freelance Writer Part 3
Become a Freelance Writer Part 4