Escapism: The sleepy dreamy fantasy worlds of happy ending books and film; romantic idealism, video games, utopia politics, multicultural pacifism and consumerism…all are the result of the dread of reality, the unwillingness to face life."
Everything that is distracting us from doing what we should be doing is escapism. This is the result of the extreme dread we feel from facing reality. The dread comes from the fact that in the back of our minds is the nagging feeling that nothing we do has any purpose.
If we could somehow eliminate that dread and stop caring about whether purpose means anything, we stand a chance of being able to cope with the fact that there may not be any meaning at all and actually live life with complete freedom.
Forms of escapism
Escapism takes many nefarious forms. I've talked about sports many times in the past. I see sports as one of the biggest forms of escapism. This is because its intertwined with feelings of masculinity and normality.
The insidious nature of sports starts to take hold after you stop playing. Growing up we need heroes to look up to, to model after. After high school, most people stop playing sports competitively and should stop modeling themselves after others.
Once you stop playing sports, you turn into a middle aged man arguing with other middle aged men about the merits of the latest graduates about to enter the draft. Instead of actually playing sports, you are excited about the prospect of watching others play.
Sports are just one model by which we go from living life to watching others live life because we've become terrified of what the end game is. The model is this: go from doing an activity that you enjoy to having to live vicariously through others who do the same activity.
People play video games because they want to live vicariously through the character in the game. You become a hero who runs around punching bad guys, taking part in wars, or being able to fly. Your normal life has become something routine and mundane compared to this. But no matter how long you play the game, or how many different games you play, when you hit the power button at the end of your session, you're still you having to go to work in the morning.
Why contemplate the void when we can escape it if only temporarily?
Crippling Nihilism
With the advent of the internet age, the pervading philosophy is one of nihilism. Unfortunately many are given extreme anxiety at the thought that everything they have been fed since childhood was lies given to you in order to make you orderly.
The natural response to finding out about the world is a crippling hesitation to do anything. If there's no meaning to getting up out of bed, why would you? It's unfortunate, but many have to go through a dark depressive stage of meaningless before waking up and realizing the truth about life.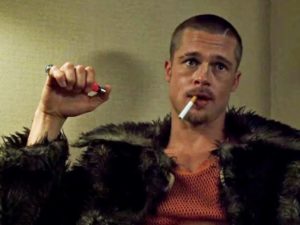 Nihilism is a completely rational response to having the ability to reason. We start having questions about creation and where we come from. As a response to not having any concrete answers, We make up stories in order to allay fear and to give life meaning. When we've grown up with those stories our whole life and get tired of them, we reject them. At this point it's sink or swim. We either make our own stories or hesitate the rest of our lives.
Although nihilism is a result that we have to come to at some point in order to free our minds from inherited magic fairy tales, the result is a crippling inability to do anything. Only by fully embracing the void can we move past this and achieve freedom.
Absurdism
Absurdism is a philosophical belief system that is very close to nihilism. It states that human efforts to find meaning in life will ultimately fail because of the sheer volume of the unknown makes certainty impossible.
Where absurdism differs slightly from nihilism is that it attempts to define how individuals should react in light of becoming conscious of the absurd nature of reality. Three solutions have been proposed as possible responses to the absurd.
The first is suicide. This escape from the absurd doesn't change anything and is a final solution that is in of itself absurd. Even in a meaningless life, one can find their own meaning as superficial as it is.
The second is an abstract belief is a supernatural realm or reality that is beyond the absurd. This was the option that Kierkegaard thought was potentially necessary even though it's completely irrational. Even though we are rational beings who are aware of the absurd, having a belief in something beyond may be required as a way to get through life. Perhaps this is why belief in the abstract is taught to a majority.
The third way is an acceptance of the absurd. Even though we are consciously aware of the fact that life is absurd, we know there's no other way and take solace in the fact that we never had a choice as rational human beings in the first place. Philosopher Albert Camus favored this path of revolting against the absurd and at the same time accepting it as unstoppable. Doing this will give you the greatest chance of freedom in life by being unemcumbered by religious or moral constraints.
In on the joke
Wading through the waters of nihilism and absurdism can easily lead to despair. Our whole lives we're told that there's some great meaning to everything. Whether it be through religion or through science, there's a purpose.
Once you shed yourself of the shackles of any purpose, it's easier to shape life to the way you see fit. The purposelessness of life gives you ample opportunity to give yourself your own meaning in spite of the absurd nature of reality.
Once you zero in on some kind of meaning that you want for your life, the anxiety and hesitation of making decisions goes away.
We are the masters of our own universe. Shape it the way you see fit.
Goals, working towards something
Once you figure out what your meaning in life will be everything can start to fall into place. Work on this goal with a single mindedness and you will start seeing luck go your way. The universe seems to be coded that way.
Few are able or willing to wake up out of the trance of escapism and face the world. Don't revert into infantile escapism as a way to deal with the anxiety of meaninglessness.
We are all like Sisyphus pushing a stone up a hill for all eternity. Better to imagine Sisyphus happy.
Twitter: https://twitter.com/Tatetime