What is 30 Days of Discipline?
It's often said that the point of boot camp in the military is to break you down to nothing, so that they can build you back up into a badass killing machine.  It's an effective method of taking people from all walks of life and transforming them into a disciplined unit.
30 Days of Discipline is a 30 day boot camp designed to instill more discipline in your life by following 12 different habits every day.  Each of these habits are hard to do and something guys don't normally do on a day to day basis.  30 Days of Discipline is designed to give yourself a kick in the ass to start being better at life by putting yourself through some hardship for 30 days.  The difference is that 30 Days of Discipline is entirely self administered.  In this regard, it's extremely difficult to do.  If completed to it's entirety, exactly as laid out, it's designed to turn you into an extremely self disciplined focused individual.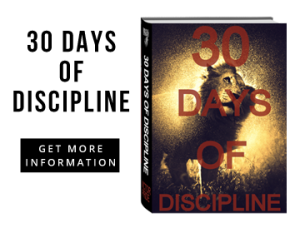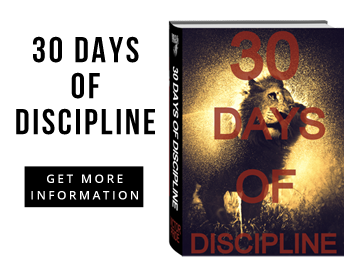 Who is Victor Pride?
I was on the internet looking at sites, and I found his article on being selfish.  At about the same time, my roommate Cheese told me about this guy writing stuff to counter feminists and it turned out to be Victor.
Victor Pride is the writer of a website called Bold and Determined.  It's a website for Men that is all about kicking life's ass .  It's hard to put Victor Pride in a box, but if I had to I'd say he's a motivational speaker/men's rights activist/bodybuilding expert/entrepreneur.  He's basically living the life most men aspire to by not taking any shit, and doing what he wants.  But it wasn't always this way.  Part of Victor's appeal is that the man has experience.  He shows his journey as a scrawny guy without much purpose, working for someone else who found the gym and decided to flip the switch and start living life on his own terms.
Specific benefits of 30 Days of Discipline as claimed by the book
Energy
Vitality
Creativity
Strength
Confidence
Self Discipline
Self Determination
Pride
Accomplishment
I think I have a lot of these areas covered already in my life but one area that is tough is Self Discipline.  The thing with Discipline that I have found is that it's always easier if you have someone expecting something of you or telling you what to do.  This is why actors hire personal trainers, they don't have the discipline to go in the gym and do the workouts themselves.
Personally, I can look back at my life and find instances of extreme discipline in what I was doing, but it was usually in cases in which someone was goading me into doing it or I was expected to do it or else.  For example, I only took one sick day in my previous 9-5 job's lifespan.  This was due to extreme food poisoning.  In the back of my head I thought I would get in trouble to the point of possibly losing my job if I had a bullshit excuse not to work.
I was intrigued by the idea of developing more Self Discipline, and so I went about looking at reviews on the google for 30 Days of Discipline.  Unfortunately none of the reviews seemed credible as they are a rehash of the sales page.  Did anyone who reviewed it actually do the program or were they just affiliate marketing with no basis in reality?  Hard to tell.  I decided to get the book myself and document the whole process.
For the month of September, I went through the program and documented everything.  The breakdown of each week is here:
Week 1 | Week 2 | Week 3 | Week 4
Benefits I gained
After completing the program I found that I gained a few things.  The most immediate thing is that I felt a sense of pride for deciding to do something and then accomplishing it.  This shouldn't be overlooked.  I have had this a number of times in my life, but after years of doing the same thing in a job and getting lost in the world, it's nice to come back to that feeling of accomplishment.
This goes hand in hand with having some kind of purpose.  If you have no defined thing you are going after, there will be no sense of accomplishment when you complete it.  My purpose here was simple, I wanted to do the program as described and document the whole thing.
Another benefit I have gained is the ability to sit down and hammer out work uninterrupted.  Sadly this was lacking before I started the program.  I was able to do work here and there but was finding myself always getting distracted.  This benefit has lasted past the program, which is to say that it wasn't something I was just doing because I gave myself a reason.  I can sit down now and just do work and it feels great.
In order to better do my work, being able to schedule out your days is critical.  It makes doing your to do list much easier because it sets limits on how much time you can do for each task.  This was something I picked up on doing the program and it's a great benefit to my life.  I like to use google calendar to do this.
Everyone has different reasons for wanting more discipline.  For some it may mean the ability to go to the gym more often.  For others they may want to approach more women.  For me, I needed to sit down and crank out work without getting distracted.  In that regard, 30 Days of Discipline was a monumental success!
Hardest parts of 30 Days of Discipline
The thing about 30 Days of Discipline is that it's very hard.  This is both good and bad I guess.  It's good in the sense that it delivers on it's promises.  If you actually complete the program as it's written, you will get a lot out of it.  This is bad though for anyone looking for a quick fix.
It specifically makes you do uncomfortable stuff so that you can get used to doing uncomfortable stuff.  If you can't do stuff that is described in the program, then how will you be able to hack it in real life where being uncomfortable is a requirement.  That said, there are a few areas that I found particularly hard for various reasons.
One of the tenets of 30 Days of Discipline is getting up early before everyone else to do work.  This was really hard for me as I'm more of a night owl and I have sleeping problems.  My mind is racing all the time and a lot of the time this wakes me up from my sleep.  So on any nights where I woke up in the middle of the night I had to deal with less than optimal sleep.
Another area that I had trouble with was doing the daily exercises.  Part of the program is you have to do a bunch of bodyweight exercises during the day.  This is a real stroke of genius by Victor Pride.  He could have put in there some gym routine or doing something with weights, but he opted for the bodyweight exercises.
This may have been because not everyone has a gym to go to, so everyone can do bodyweight exercises.  But the real reason I suspect is because bodyweight exercises are a huge pain in the ass to do and are extremely tedious.  Think about it, doing hundreds and hundreds of squats and pushups takes time, gives you a huge burning sensation, and generally has a much higher mental block to accomplishing them than say doing a set of bench presses.  Doing the exercises in 30 Days of Discipline is less about getting in shape, and much more about having to do something you really don't want to do.
I found this aspect of the program to be the most interesting because I was able to do the exercises with relative ease.  It wasn't a physical barrier stopping me from doing the exercises, it was mental.  I always had to push myself to do them because they were a pain in the ass to do, and that is the point.
Another part of 30 Days of Discipline is the length.  Although 30 days isn't really that long, at around week 3 you start questioning why the hell you are putting yourself through all this.  After starting the program you are giddy a little bit with starting a new challenge.  That translated into getting a lot of work done initially.  After a while you are doing so well that you think you don't need to continue.  If this is your line of thinking, just keep going and do the full 30.
Finally, the lack of socializing was a little bit rough.  This was something I wasn't really thinking about when starting the program but it needs to be addressed.  If you are doing 30 Days of Discipline, you will find yourself being lonely for the month.  Getting up early and going to bed early runs counter to hanging out with any friends who will be out past 10 PM.
Most beneficial aspect
The most beneficial aspect of 30 Days of Discipline is it gives you a framework to structure your life.  It provides a system to start getting work done and succeeding in life.  It also provides the mindset to be able to stick to that system.
The perfect applicant for going through 30 Days of Discipline is someone just like me who once had a 9-5 job and now is trying to go their own way with their business.  Let's say you start out and find yourself struggling.  You can't find the will to sit down and work like you could with your 9-5 because no one is looking over your shoulder.  You basically have to relearn what it's like to hold yourself accountable and be disciplined.  If this sounds like you, 30 Days of Discipline is the answer.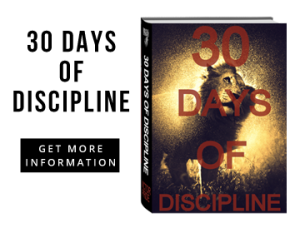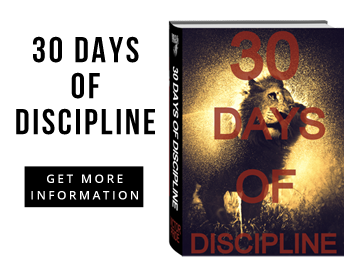 30 Days are up, what now?
Doing 30 Days of Discipline is meant to be done for 30 days, not your whole life.  Sure, you could theoretically do all this every day for the rest of your life, but that would be super hardcore and not realistic.  So the question is what behaviors, if any, are worth adopting for my every day life?
Like I said earlier, I'm a night owl, so I find myself staying up late for some reason.  Even though it was super uncomfortable and at times downright agitating, I found that getting up early was very productive.  When you get up early, you are giving yourself a reason, even a small one, to get your work done.  My thought process was that if I got up early and didn't do work, I was just wasting time and my sanity.  So if I forced myself to get up early it was only a small push to get working on projects.  With that in mind, if I ever find myself stalling on some work or finding it difficult to get done, I may just get up early to make sure it's finished.
One of the steps in 30 Days of Discipline that directly related to what I was trying to accomplish was keeping a to do list and making sure you are completing it every day.  This was a very simple step that I'll always keep in my arsenal.
Finally, one of the most interesting parts of 30 Days of Discipline was keeping a notebook handy for when you come up with ideas.  Someone reading the book may think of this as unimportant.  Don't make that mistake as I found this to be invaluable.
I was coming up with so many ideas while doing the program and if I didn't have my notebook handy(I used the notes app on my phone) I would have forgotten them.  Equally as important as having somewhere to jot the notes down is to jot your ideas down immediately lest you forget.  This happened to me all the time before going through the program.  I would think of something and forget it a couple minutes later.  That will never happen again.
What to do if you are thinking of starting 30 Days of Discipline
In order to get the most out of 30 Days of Discipline, you should do a couple things before hand.  The most important thing to do is commit.  Doing this program is about changing your life for the better, so completing the program as written should be paramount in your life.
Before you start, commit to the possibility of losing a whole month of your normal life.  To complete 30 Days of Discipline you will be doing some things that may be out of your norm, so doing what you normally do should not take priority here.  Just clear out a month of time before hand so that when you are in the middle of the month and something comes up, you'll be ready for it.
You should absolutely commit to not partying at all.  This may be tough for some because they are so used to doing what they want without any restraint.  I myself messed up here and went out drinking one of the nights and it set me back a bit in the program.  There's a good chance that this will come up for you during your run as well, be prepared to deny your partying urges.
Depending on the type of friends you have, you should commit to not seeing them as it may lead you to partying or not getting to sleep on time.  I know this sounds extreme, but take it from me, your mind will come up with any little justification it can in order to not do something in the program.  Don't let it.
Commit to doing everything in 30 Days of Discipline as it's set out.  Don't cut corners here.  Believe me, you will want to, but just don't do it.  You'll feel so much better at the end knowing you did something difficult without cheating.
Your mind is a powerful thing
A word of caution regarding your mind.  When faced with difficult tasks your mind will come up with the flimsiest of reasons why you shouldn't do it, and they all seem like really great justifications at the time.  If you find that you are cheating over and over at the very beginning, you may just want to start over on another month.  It may be that you just don't have the will and determination to start yet.  That's alright, just try it the next month and you should get better at it.
That being said, if you are in the middle of the program and find that you failed something for the day, don't get upset and turn it into an avalanche of failure.  Just acknowledge that you messed up, move on, and try to do everything as written from there on out.  I messed up a couple of times during the month and I didn't let it get to me.  Just keep moving forward and you'll be fine.
What to do when you finish
If you finish 30 Days of Discipline, just do what I did and evaluate the most beneficial parts of the program for YOU.  Find whatever it was that worked the best and incorporate it into your life.
By now, you should have the discipline to be doing work every day.  You shouldn't have to do everything in the book every day, but if you do, keep doing them.  At this point it's less about cultivating discipline and more about the best cost-benefit ratio for you.
The Bottom Line
When I set out to review 30 Days of Discipline I wanted to do it for myself to see what it's really about.  I have accomplished that and can say that it has changed my life.
If you are in a position like I was finding it hard to do the work you need to do in order to run a successful business, I would recommend shocking your system with 30 Days of Discipline.
What if you could drastically move your business and life in a better direction, and all it would take is working extremely hard for a month.  Would you do it?  I'm here to tell you that I did just that, and I am so much more disciplined than before.
Get 30 Days of Discipline here