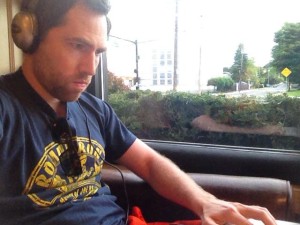 For the month of June I am going to be dedicating myself to writing books every day to release on Amazon Kindle. This is a pretty serious challenge and I can't wait to begin. I'm not sure if this is even possible but I don't care. I'm going to give it a try anyway.
This challenge was in part inspired by a post by Robert at 30 Days to X in which he talks about turning personal growth into personal profit. If you're willing to take a leap of faith and just start something, you may as well cover your bases and document it at the same time.
30 Day Challenges
There's a lot written about 30 day challenges on the internet. In fact, I have a rather comprehensive post about one of the most popular ones out there called 30 Days of Discipline. I have a little experience in this regard and I think they are very effective. This is assuming you actually do the full 30 days.
After doing 30 Days of Discipline, I was pretty disciplined and got a ton of work done. Now, what if I could just apply the same idea to other projects I had. Imagine if you took something you wanted to do and worked at it for 30 days. All the while, during the process you are documenting everything. This would give you two things:
You will gain a considerable amount of experience in a new area of interest. For instance, if you were totally interested in learning karate, go do karate for 4 hours for 30 days straight. The result would be you are more skilled than 90% of people that just sit on the couch all day.
You will have enough experience to be able to speak on the subject with authority. You could take this a number of different ways. You could write lengthy blog posts on it. You could write a Kindle book about the subject. You could even use your experience to teach others and make money in the process.
For June I'm going to be doing writing every day. I've been planning on releasing books on Kindle for a while now based on reports from other people that they were doing well there. I have a couple books written so far and I'm looking to expand that library a lot in the next month by going full berzerker.
In order to research how to publish books on Kindle, I did a few things. I purchased Kindle Unlimited to read a bunch of books on the subject for a monthly fee of 9.99. At the same time, I made a gig on fiverr to read people's books on Kindle Unlimited.
This not only allows me to pay for my Unlimited account with my gig money, but also lets me read people's books and get an idea for the whole marketing game of Kindle books. In return customers got paid for each of the borrows I gave them and got a small rankings boost for their books. That's a win-win.
Warm Up Like A Savage
I've written about warming up before and how important it is. For the month of June, I'm going to be doing a warmup by writing a blog post for my niche site each day. Believe it or not this isn't really a tall order because writing posts for my niche site is extremely easy compared to other writing I do.

Writing for my niche site is pretty much a formulaic process right now. Sign on, look up what topic to write about based on my previous keyword research and bang it out. This will be awesome because it will give me more exposure on my niche site and give me a writing warm up for my goal of writing books each day. Again, win-win.
Why Blog Posts and Books
I'm going to writing blog posts because I've had a niche site see some success recently and have been inspired a bit by it. I took a look and it's ranking for a number of long tail keywords already. Using this knowledge, I'd just have to expand a bit in the same area and start ranking for a number of other related long tail keywords.
I figure I can do an article a day and start getting my traffic up a lot. To get an idea of where I'm going with it, read this article on how to do this for yourself.
As for books, I've come to understand that you can make a good amount of solid income from writing books for Kindle. I've read a lot about this in the past month but it seems like you really start to make money once you have an author platform set up. This just means that under one pen name, you have a large catalogue of books for a niche. The idea here is that when people buy one book from you and get good value, they'll trust you to check out the rest of your books.
This is why I want to have a bunch of books ready to go up on Kindle by the end of the month. I've done the research, now it's just a matter of writing the books and getting it done.
Join Me
If you have been doing freelance writing for a while and want to transition into something a little more permanent, join me in my writing challenge. During the next month I'll be doing little updates via my Twitter account. Feel free to hit me up and share your own ideas.
As always, grip, rip.
-Tate
Check me out on Twitter
Follow @Tatetime